Tusshar Kapoor has proudly announced the birth of a baby boy!
He posted on Instagram:
"I proudly announce the arrival of my son, a baby boy, born last week through IVF and surrogacy. The baby, Laksshya, is in excellent health. I am thrilled to be a father! The paternal instincts in me have been overpowering my heart and mind for some time now. Therefore, I am thrilled beyond words to have Laksshya, now the greatest source of joy in my life. By the greatness of God and the excellent medical team at Jaslok, parenthood is an option for many, who choose to be single parents. Thanks to you all for your blessings & good wishes!"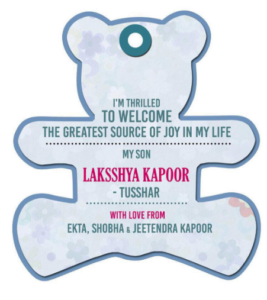 About his son Tusshar said in a recent interview, "My son looks exactly like me. So, it makes me very, very happy and I don't have words to express how excited or how joyous I am. My family is complete."
Tusshar's parents Jeetendra and Shobha Kapoor said in a statement, "We could not be more excited to be grandparents to Laksshya, and are completely supportive of Tusshar's decision. This is certainly a tremendous blessing, and an exciting time in our lives. Tusshar is a wonderful son, and he has proven, with responsibility, independence and kindness, that he will be a great father to Laksshya."
It seems his sister, Ekta, chose the baby's name and appartenly since both were born in June, calls Laksshya her twin. Could that be any cuter?
We wish father and son many blessings!