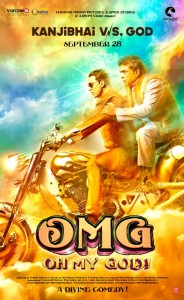 Akshay Kumar and Paresh Rawal's divine comedy OMG Oh My God released this past Friday and it seems that the audience has taken this film to heart becuase early totals say that OMG collected approx Rs 18.5 cr at the box office. Not only that OMG Oh My God has managed to garner some rave reviews from most of the critics. We hear at BollySpice loved the film! Now there is even cooler news because OMG has found fans in the Bollywood industry
Many stars took to a micro-blogging site and rooted for the film.
Salman Khan @BeingSalmanKhan
Any 1 saw OMG ? Ya heard its fantastic. Definitely gonna see it tomm or day after . No thx dude , don't wanna hear the story , vil see it n hear em thr . Matlab vil hear the dialogues frm akki n paresh , thank u but aap se nahi sunna , bilkul nahi . Obviously theatre close to my house .
Sonakshi Sinha @sonakshisinha
Waiting to watch Oh My God #OMG. Only been hearing good things about the film… Kal jake dekhungi 😀 who's gonna watch it this weekend??
Karan Johar @kjohar25
Congratulations ashvini @grazinggoatpix!!! On your super production debut!!! Hearing amazing things about#OMG….@akshaykumar….Kudos!!!
RITEISH DESHMUKH @Riteishd
OH My GOD- a must watch-absolutely entertaining-Paresh n akki-a leathal combo-u will laugh-u will question at d end u will believe-go4 it.
Anurag of वासेपुर @ankash1009
So all my favourite critics recommend "OH MY GOD" .. Baradwaj Rangan, Shubhra Gupta .. Have to see it now..
Ekie Baby @EkmainaurEktu7 (Ekta Kapoor)
My ashwiini has made us sooooo proud! Supahstaaah debut ms producer! OMG wins hearts all india!!!rock on girl!
Jaaved Jaaferi (@jaavedjaaferi)
OMG , SUPERB !!! A bold, wise and in your face reality check on Organised Religions. A Wake up call. Kudos Paresh Rawal and writers Bhavesh Mandaliya/ Umesh Shukla.
Full house comprising mainly families at Fame Adlabs..
Hope this films does great business.
ATB OMG
poonam dhillon @poonamdhillon
Saw OMG.. enjoyed..had seen the play earlier so wasn't surprised,but friends who were with me were amazed at the Daring NEW Thoughts!! OMG! Also realized "Sikhism" is exactly what movie talked about..NO Idol or Human worship. Belief in One God. Doing Good only Religion.
With this kind of support from the industry and critics and fans, OMG Oh My God sure looks like it's here to stay!