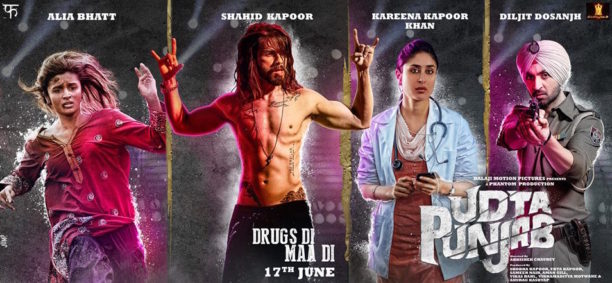 After teasing the audience with the psychedelic posters of its characters, the trailer of Udta Punjab was finally launched yesterday at PVR in Mumbai. After almost a decade, the movie brings together Shahid Kapoor and Kareena Kapoor Khan in the same film along with Alia Bhatt and Punjabi Superstar Diljit Dosanjh. The star cast was present yesterday along with the director Abhishek Chaubey, producers Ekta Kapoor and Vikramaditya Motwane.
The audience went berserk as the stars launched the first trailer of the movie. Udta Punjab is based on the drug problem which is rampant in the State of Punjab. The trailer is quite captivating with Shahid Kapoor as Tommy Singh and Alia Bhatt as Kumari Pinky having some pretty interesting looks in the movie. The cast was seeing wearing shirts with the slogans 'I love Punjab' and the movie tagline 'Drugs Di Maa Di'. Alia, who is playing a Bihari immigrant in the movie, underwent a training for 1-1 ½ months for getting her dialect and looks right. For the role of Punjabi popstar Tommy Singh, Shahid Kapoor worked on his body to get the look of a guy who has fairly abused his body. Not preferring loud character roles, Shahid, after reading the script, fell in the love with it and gave a go ahead. Although the movie is not like your typical Bollywood films, the cast had no concerns being a part of Udta Punjab – as producer Vikas Bahl said, the movie has a message but it is also a hell of an entertainer at the same time.
Abhishek Chaubey, who earlier directed Ishqiya and Dedh Ishqiya, realized that the drug usage problem in the state is not much talked about and wanted to bring the topic to the audience. From the trailer one can safely assume that it is going to a different and interesting film. The film is set for release on 17th June.
Check out these cool shots for the launch event!