To celebrate the release of the much-anticipated release of Detective Byomkesh Bakshy! on Friday 3rd April, Yash Raj Films giving away you the chance to win the limited #DBB notebook.
Directed by Dibakar Banerjee and starring Sushant Singh Rajput, DETECTIVE BYOMKESH BAKSHY! is based on Saradindu Bandyopadhyay's well-known and successful fictional detective, Byomkesh Bakshy and is a contemporary interpretation of Calcutta during the 1940's. This first of its kind detective film is an adventure thriller mired in deep political intrigue. A young, astute and intelligent Byomkesh, fresh out of college, pits himself against a mega world villain, depending more on his intuition and instinct rather than concrete proof, to solve the case, sometimes overstepping the law if needed.
So how do you, dear UK readers, get your hands on this cool prize?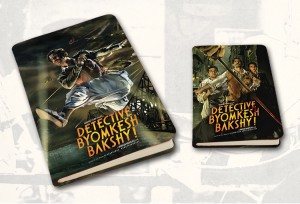 Simply answer the question:
Q: Who plays Detective Byomkesh Bakshy?
A. Dibakar Banerjee
B. Sushant Singh Rajput
C. Anand Tiwari
Email your answers to editors@bollyspice.com along with your name and address.
Presented by Yash Raj Films, Detective Byomkesh Bakshy! releases Worldwide on 3 April 2015