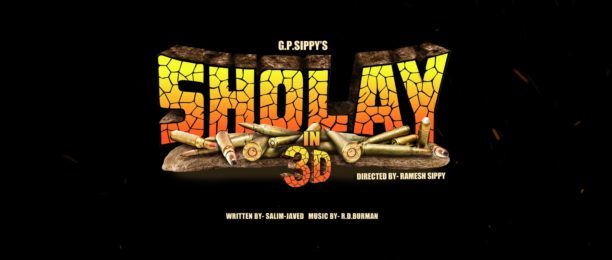 Yes, dear UK readers you have the chance to see the classic, epic Sholay in 3D on Sunday, March 18th in Birmingham!
Considered by many to be the greatest Bollywood film of all time, Sholay topped the Indian box office for 19 years after its release in 1975. It went on to receive numerous 'Best Film' honours, topped the BFI's "Top 10 Indian Films" in a 2002 poll and was named in the Top 10 list compiled by London's Barbican Centre "What London Watches: Ten Films That Shook Our World" in 2017 – 42 years after its initial release.
Inspired by the spaghetti western genre in mainstream cinema, the film follows two criminals, 'Jai' and 'Veeru' (played by Amitabh Bachchan and Dharmendra) hired by a retired police officer (Sanjeev Kumar) to capture the ruthless dacoit 'Gabbar Singh' (Amjad Khan). Hema Malini and Jaya Bhaduri play 'Basanti' and 'Radha' respectively – Veeru and Jai's love interests. The film's dialogues and characters became universally popular, forming archetypes that have since defined and inspired subsequent eras of Indian cinema; contributed to numerous cultural memes; and become part of India's daily vernacular.
In 2014, over 300 people took part in the process to convert this iconic film into a 3D digital format, where every scene had to be individually restored, colour corrected and re-composited in 3D. The music has been re-composed and re-created by Raju-Singh.
Following on from the conversion of this worldwide blockbuster into the digital 3D format this will be the first time Sholay in 3D will be screened in the UK on such a wide-reaching scale, targeting a new generation of filmgoers and Bollywood film fans and you have a chance to experience the magic. A custom-made screen will be erected at The ICC Birmingham on Saturday March 17th and Sunday March 18th 2018, to present Sholay, one of India's most iconic, most loved films, like never before.
Coupled with an integrated cinematic experience for the family, cinemagoers are encouraged to get immersed in the experience and singalong to classics like Yeh Dosti and Mehbooba Mehbooba, dress up as their favourite Bollywood characters and take part in the Bollywood Fan Zone, featuring live music, dance and food. In fact the doors open at 10.30am, for the immersive experience with the movie starting at 12pm!
We have 5 pairs of tickets to give away to UK readers only! All you have to do is answer this question:
Who starred in Sholay?
Email your answer along with your address to editors@bollyspice.com
We also would love to know why you think this is such a classic or why you love this film so much – your answer may be be used in an article so send that too!
Again the details for the event are
Sholay in 3D, powered by Rishtey CINEPLEX
Date: Sunday 18th March
Doors Open: 10.30am, for the immersive experience, film showing at 12pm
Good luck!