Being one of the celebrated screenplay writers of one of the most iconic films of recent times, Rang De Basanti, comes with its fair amount of large expectations. While D'Silva's debut Kurbaan was no money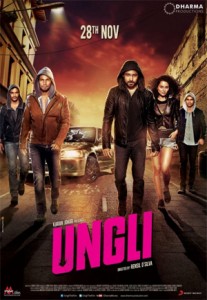 spinner, the film was appreciated for its earnest content which was well crafted and delivered. With Ungli you hoped Renzil D'Silva would rectify all. He put together an unconventional cast under the elite Dharma Productions banner and promised a story of a group of young vigilantes driven by frustration caused by the Indian justice system. On paper and by the promos we were all hooked. Sadly though with his second bigscreen outting Rensil D'Silva disappoints at a rather grand scale.
Ungli's story is best described as childish. It is as underdeveloped and as rushed as a script can be. You're given no opportunity to connect with any of the characters and are expected to dive into their warped sense of justice within minutes of the opening titles. Then there's a hurried flashback with a sad story about why this vigilante group do what they do. In and out of the picture is a rebel cop who is given the task of apprehending the group but instead predictably starts to side with the group's logic and of course, falls for the only female member of the gang. Times hardly get tough for the Ungli group because the moment they're confronted by the law enforcements agencies, they almost effortlessly twirl their magic wand and magically within minutes the dedicated officer hell bent on bringing them to justice buys into their philosophy of justice. And they all lived happily ever after.
In fact, the above one paragraph synopsis may just have more content than the entire film does. Not only does the writer shy away from writing a wholesome story, whatever has been written is in the most unentertaining way possible. It really does take all your energy not to walk out of this one and spend your time more wisely.
Emraan Hashmi delivers what is probably his worst performance to date. He looks tired and the performance like the script is lazy. His outburst scene with Sanjay Dutt instead of igniting any emotions in you makes you laugh. Perhaps the most forced confrontation scene in recent times. Sanjay Dutt is nothing to rant or rave about. He's merely watchable. Randeep Hooda tries his best to bring in his charm to save the day but even he couldn't save this train wreck. Kangana Ranaut casting redefines 'wasted talent' in a whole new way. You hear all of a few sentences from the actress in the duration of the film. Neha Dhupia, like Randeep, is the somewhat more watchable part of the film but like Kangana, she too is wasted on a film that gives her next to nothing to do. Angad Bedi and Neil Bhoopalam are the comic relief from time to time but don't really make an impression.
Ungli is a colossal disappointment. There's no way you can sugercoat this overall verdict without it sounding like an outlandish lie. It is the kind of script that insults the audiences intelligence by hoping that being enveloped in a preachy message will be enough. Well here's the harsh truth, it is not.