Yes, dear US readers we have a special contest just for you! To celebrate the Diwali release of Karan Johar's Ae Dil Hai Mushkil , which stars the amazing cast of Anuskha Sharma, Aishwarya Rai Bachchan, Ranbir Kapoor and Fawad Khan, we have posters that you can win! With the film releasing this Friday, it is a perfect gift for yourself or for a loved one for Diwali!
Check out an image of the poster you might be able to hang on your wall!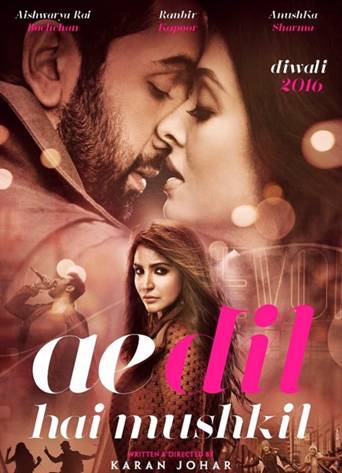 So to win all you have to do is answer this question:
What is your favorite Ae Dil Hai Mushkil song?
Email your answer along with your name and address to editors@bollyspice.com
Ae Dil Hai Mushkil is the ultimate story of unrequited love… the shapes and forms it takes and the highs and lows of the characters' lives. We follow the journey of Ayan Sanger, the sweet, quirky son of an industrialist, who nurtures a hidden passion for singing… Alizeh, the charming and funny, but neglected youngest daughter in a daunting family of aristocrats… and Saba, the stunningly beautiful divorcee who pours her pain into her poetry. How the three characters' lives intertwine and connect and how they find closure in the romantic and unromantic forms the crux of this film.
Good luck!