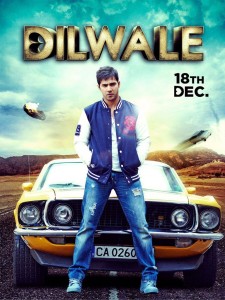 As we told you earlier, the cast of Dilwale that includes Shah Rukh Khan, Kajol, Kriti Sanon, and Varun Dhawan are going to be in the UK tomorrow for promotions. The cast is not only going to take part in a press day (yes, we will be there and will bring you reports and interviews) but they are also going to have a special meet and greet with fans at Cineworld Feltham that evening.
Talking to us exclusively about coming to Cineworld Feltham for Dilwale, Varun said, "The UK is really special to me. I have lived and studied in Nottingham. I love London anyways and I used to go to Cineworld to watch movies. It's really special for me to come back with the team of Dilwale."
The actor was part of a special event at Cineworld for his debut film Student of the Year. About that first apperance at Cineworld Feltham Varun said, "I will always cherish that moment. It was so much fun meeting fans and interacting with them."
Varun is very excited to meet his UK fans, "They love you so much and spend their hard earned pounds on your movies. To interact and meet them is just a little way of saying thank you to them."
So get ready UK, Varun and the Dilwale team are taking over the UK tomorrow December 1st and are expected to arrive at Cineworld Feltham at 8:20pm! We will be there too and will share all the fun! The official hashtag for this cool event is
#DilwaleUKTakeover
Dilwale, directed by Rohit Shetty, hits the big screen on 18th December!
With contributions by Stacey Yount