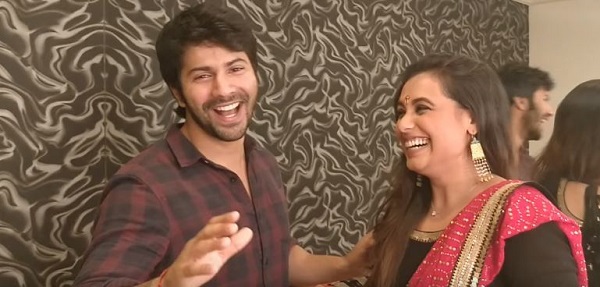 The makers of Rani Mukerji's Hichki, which is in theaters today, has a very cool promotional idea they went to actors and actresses and asked them to share their untold weaknesses and how they eventually converted them into massive strengths. In conversation with Rani, star Varun Dhawan revealed his and it may surprise you.
The actor, who can also dance like a dream, had a Hichki that will definitely make you pause. Going onstage for the first time as an actor, Varun faced his first major hiccup – he had stage fright. His Hichki was powerful enough to make him freeze and also, made him speak rapidly while talking to the audience.
Varun reveals, "When I walked up onstage for the first time, I just froze. Seeing Madhuri Dixit, the late Sridevi ji and so many cinema idols in the front rows, I lost my tongue for some time. And when I did speak, I spoke so fast that I was barely coherent. Since I had never faced issues while facing the camera, this Hichki came up quite unexpectedly. I decided to address it by listening and observing my idols. It didn't quite work immediately. But gradually, I did learn how to tackle this challenge. I practised on it and eventually, could perform and speak onstage well. Setting your mind to it, I think, all of us can overcome all these Hichkis."
Watch Varun Dhawan reveal his Hichki to Rani Mukerji:

Directed by Siddharth P Malhotra and produced by Maneesh Sharma, the movie is set to touch the hearts of audiences when it releases on 23rd March 2018.