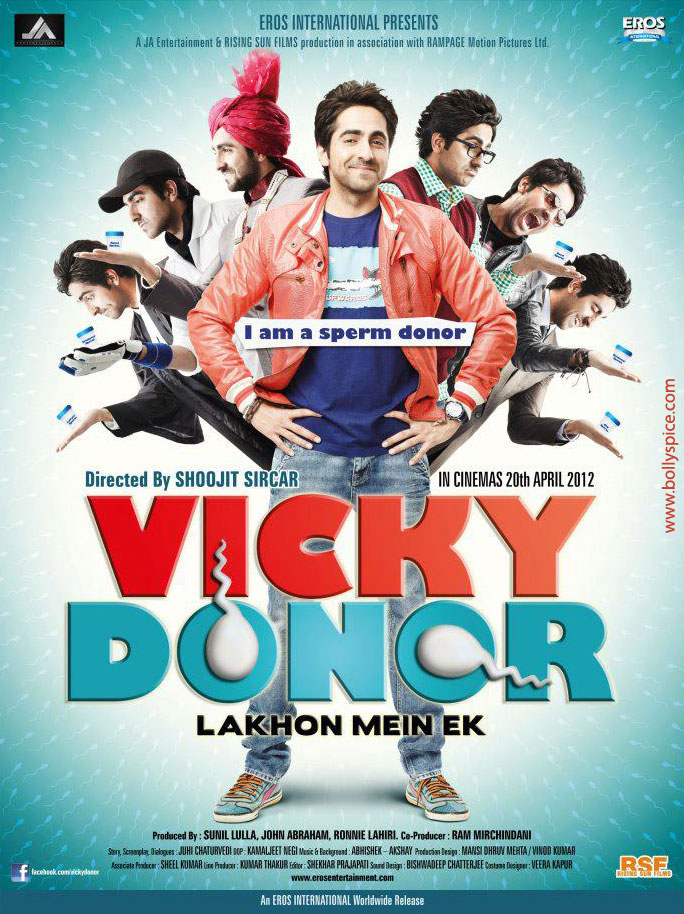 It's impossible for Bollywood to make a movie on 'that' topic and not be a sex comedy, loud double entendre or a preachy social message movie. Vicky Donor, however, manages the difficult task of remaining a clean family entertainer despite being based on the topic of infertility and sperm donation.
After the beautiful Yahaan, Shoojit Sircar brings to us the lighthearted story of Punjab da Munda, pakka Delhiite Vicky Arora (brilliant debut by Ayushmann Khurana) who is unemployed but would rather have a job and earn respect than join the family business. Dr. Chaddha (Anu Kapoor) runs an infertility clinic and is in dire need of a sperm donor. Chaddha, who 'shakal dekhte hi sperm ko pehchan lehta hoon', releases that Aryanputra Vicky is the only solution to his problem and convinces a reluctant Vicky to become a sperm donor for money. Trouble arises when Vicky falls in love with a Bengali girl Ashima (Yami Gautam) and realizes that the society is not yet ready for the concept of sperm donation.
Shoojit brings a very endearing and entertaining tale and it is not difficult to fall in love and connect with the characters. Juhi Chaturvedi weaves a 'rom'ance and a 'com'edy seamlessly with minute detailing of the character sketches. Whether it's the larger-than-life thinking of Punjabis, the attitude of the Delhiites or the mentality of the society, Shoojit makes sure that nothing seems unreal. Watch out for the Punjabi-Bengali marriage sequence which though points out the clichéd differences between the two communities, is still wonderfully and uniquely handled. The dialogues are an absolute delight with the mother-son-mother-in-law conversations probably being the best in the movie.
The great thing about Vicky Donor is that it doesn't try to be a social message carrying preachy movie neither is it a vulgar comedy. Sure it touches the topics of infertility (Chaddha reveals how stress of modern living is responsible for infertile couples) and the perception towards sperm donation but never does it become too heavy or forced. The only problem is that at times, the movie tends to get a bit slow with repetitive interactions between Chaddha and Vicky where the former keeps trying to convince the latter to donate.
Vicky Donor is one of those rare Bollywood movies where just about every actor does justice to his role. Anu Kapoor, a veteran, is someone from whom you never expect anything else and he again gives his best with his character of the desperate, bit selfish-bit large hearted Punjabi doctor. Dolly Ahluwalia as the widowed parlor-owning mother of Vicky and Kamlesh Gill as the modern thinking fun grandmother are excellent and their stupendous performances manage to crack you up every time. Jayanta Das as Ashima's Bengali dad is fun to watch. Yami Gautam makes a very impressive debut and I must say she has a great screen presence. The camaraderie between her and Ayushman is good although she does fumble a bit in the emotional scenes. But the one guy who will definitely be taking all the accolades home is Ayushman Khurana. Never for a second do you think that it's a debut for him. Ayushman gets the nuances of his character so well, that you end up connecting deeply with the character of Vicky Arora.
Hats off to John Abraham for supporting such a wonderful movie. In an age where the people forget the movie the moment you step out of the cinema hall, Vicky Donor makes sure you walk off the theatres with a smile on your face revisiting the scenes with your friends. A great weekend treat; don't miss it.