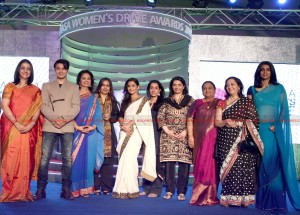 Peals of laughter resonated through the air as host singer-actor Meiyang Chang sheepishly admitted to not have ever been seen so many women in one place. Just in time to coincide with Women's day, winners of the 4th edition of the Lavasa Women's drive rally were felicitated at a star studded Lavasa Women's Drive Awards ceremony held over the weekend at a suburban Mumbai hotel. Laughter, tears, emotions and more prominently women power engulfed the atmosphere at the venue which saw around 600 women joining in to celebrate and talk about early detection, treatments, importance and awareness of cancer. The winners spoke candidly about their feelings towards the cause, experiences and their journey to carving their destiny and making a contribution to society at large.
"Lavasa Women's Drive" the annual women's car rally that celebrates the spirit of women saw over 2000 women compete to emerge winners and also help spread the messages supporting various causes like cancer prevention, saving a girl child, conserving tiger and many more.
The awards night which began with actor Kunal Khemu presenting the winners with trophies and gifts, also saw an enthralling performance by Sophie Choudhary who had the audience swaying to her rendition of late Whitney Houston's track.
Welcomed to the stage with loud cheers, Ali Zafar presented the top 3 awards.
The first 'Lavasa Women's Drive – Women in the Driving Seat Awards' saw a galaxy of women from diverse fields such as cinema, Corporate, Healthcare, Education being recognized and honored for their immense contribution in their respective fields of work while also benefiting society.
Vidya Balan receiving award for her exemplary contribution to the field of cinema from Anil Kapoor, complimented Lavasa for organizing the rally. "Lavasa Women's Drive celebrates the spirit of fun, adventure among women while promoting cancer awareness among women. I dedicate the women in the driving seat award to all women, who are driving vehicles of their own lives. I am really honoured to be part of the platform created by Lavasa for spreading awareness on a highly relevant social cause" she said.
Having been part of many women-centric films, Lajja being the most prominent, Anil Kapoor spoke about Mother Teresa being an inspiration for women all over the world for her selfless deeds. He further commended the great job done by the Lavasa team for helping women empowerment and educating on the life-threatening ailments.
LWD is a joint annual initiative of Bombay Times and Lavasa Corporation Ltd. MSD is the Associate Sponsor. MAK Lubricants, JMD Auto and Grabthebrand.com are the co-sponsors. Dove is hair care partner. Viira Cabs and Bank of India are other sponsors. This drive is supported by Women's Cancer Initiative, Tata Memorial Hospital, and conducted by WIAA. This is an initiative of the Times Red Cell.