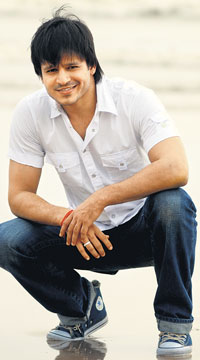 Having a big heart may sound a little filmi but it seems our favourite stars really do have hearts of gold when it comes to helping the less fortunate. One such celebrity is Vivek Oberoi. The actor was honoured at the International Indian Film Awards (IIFAs) in 2010 with the Global Green award for his charity work. Now he has been honoured once again because Oberoi has made it to the Forbes Asian Heroes for Philanthropy list .
Oberoi, who has been recognised for his work in disaster relief, education and healthcare, has said that he is humbled by the award. He said he gives full credit for his work to his parents, Suresh and Yashodhara Oberoi, as well as his wife, Priyanka, for their support and encouragement for the work he does.
The actor has not only come to aid of Tsunami victims but also took advantage of his time in Sri Lanka for the IIFAs last year to talk to the Government there about the opening of schools and centres for the poor. He is known to come to the support of causes which mean a lot to him and among those are cancer patients and homeless women. Project Devi, for example, is a cause launched in 2009, with Oberoi's personal charity in partnership, for the empowerment and development for underprivileged girls in Vrindavan.