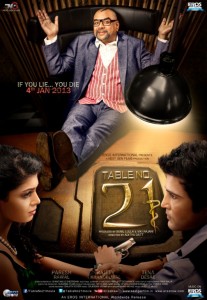 Starring Paresh Rawal, Rajeev Khandelwal & Tena Desae and directed by Aditya Datt, the mystery filled Table 21 is the first film to release in 2013!
After working day and night to live a mediocre life, Vivaan (Rajeev Khandelwal) and Siya Agasthi (Tena Desae) are thrilled to have won an all inclusive vacation to the exotic Fiji. Not only do they get to stay in a lavish hotel with a grand suite, the couple also receives an invitation for lunch to celebrate their wedding anniversary at one of the finest resorts in Suva, Fiji. The couple's excitement only increases when they meet the very suave Mr. Khan (Paresh Rawal) at the restaurant who gives them a chance to play a "tell all truth" game for a mind boggling 21 crores. The rules of the game are simple; answer 8 questions truthfully and complete the respected tasks and the money is all yours. Vivaan and Siya readily agree as they can take their winnings to Mumbai and live the life they both have always dreamed of. The game begins; Vivaan and Siya are off to a great start answering each question right as well as completing the tasks successfully. However the as they proceed, the questions and tasks get more and more personal. Each question ironically ties back to an important chapter of their lives. Vivaan and Siya have had enough and choose to quit the game. One important rule they forgot which Khan reminds them of, quitting is not an option. They both realize that the game isn't really a game but the only way to survive is to complete the game. Who really is Khan? Will Vivaan and Siya survive the game and win 21 crores?
Your reservation had been made at Table No.21; come find out and don't be late!