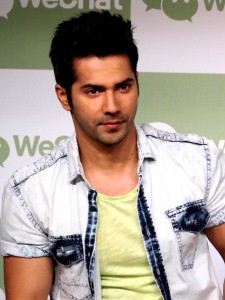 Popular messaging application WeChat celebrated its launch in India recently at an event in Mumbai with its brand ambassador – Parineeti Chopra and Varun Dhawan. While you can catch details of the event here, we caught Varun in a playful mood where he gave us quick bytes on the new app.
You've been on an endorsement signing spree. WeChat is among the many brands you're an ambassador with. How did this association click?
I heard about WeChat from my family and friends abroad who have been using it for many years. It's important that you have faith in a brand you are associated with. It's a two-way thing, when the brand trusts you to carry it's image; you have to believe in it. When I was offered to endorse it; I realized immediately it was something I could relate to, I could connect with, I can proudly declare that I use it. It was a simple personal decision. It'll get popular with the youth fast; it'll change the face of chatting
What according to you is the application's USP and your favorite feature?
The voice messaging is I think the biggest point of WeChat. It's new, fun to use and hasn't been done in any other chat applications. It'll replace SMS texting.Also you have to check out the smileys, the emoticons! They've got some really cool ones
How is it working for the first time with Parineeti?
We've known each other for a while, we're all part of the same group, so it wasn't like we were strangers. Anyways she is very easy to work with, we share acasual rapport so it's always good fun.
You're a self-confessed gizmo geek. What are the gadgets that you can't do without?
I'm an Apple fanboy, so IPAD and also the iMac which my parents gifted. Apart from that the regular stuff, like playing video games, FIFA, PS3 games.
Lastly, who are on your top speed dial list?
My family, friends, (checks phone) my stylist, man-Friday
Moving on quickly, a few rapid fires from the twitter world,
Kriya asks how is your experience using WeChat and are you enjoying it?
It's amazing. I find it very useful. When I am using it I can multi-task so I have more time to do things I enjoy and love. Also I make a lot of mistakeswhile typing fast, this saves me the embarrassment.
Maahek wants to know if you really are on WeChat?
Yes, I am on WeChat for the past few months and use it regularly because it is convenient & easy. Join me there and will say hi if u follow me there.
Oishika wants to know whether you access Twitter with your iPhone or iPad?
Phone most of the time as its handy, IPAD if I am at home or while traveling. I carry it with me everywhere, to the gym, long journeys, shoots, almosteverytime.
(Before WeChat, you've connected with your fans on twitter), Shruti wants to know about your special twitter fans and your experience with them
Each one is extremely special. They are the reason we work so hard, their messages keep us motivated. It's extremely important for me, even if I don't get much time to interact. Even if I've said this before, I can't thank them enough.
Making of the TVC