Shahid Kapoor's upcoming wedding to Delhi beauty Mira Rajput has the rumor mills buzzing with all sorts of reports. But one thing's for certain: this Bollywood heartthrob will be officially off the market sooner than we realize.
Here are the current speculations about this sure-to-be extravagant affair:
It's Happening VERY Soon
July 7, to be exact! Reports note that the wedding will take place at a five-star hotel in Delhi and the couple will later host a reception in Mumbai for Shahid's Bollywood colleagues and friends.
The Invitation is Immaculate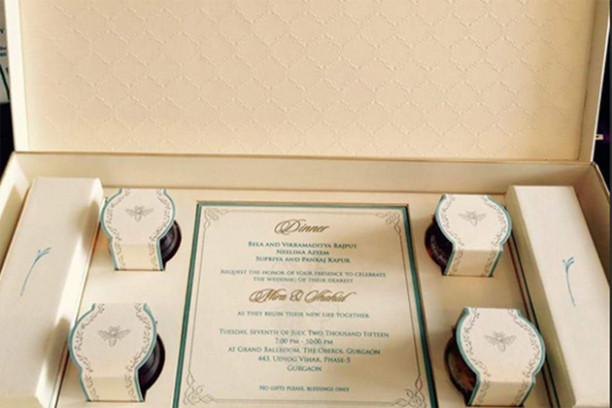 Photos of the official invitation recently leaked online and, boy, is it fabulous! The elegant pastel blue and off white invitation (pictured above) is accompanied by four special infusions of Anandini Himalya Tea in handmade muslin potlis. Some say that power couple Kareena Kapoor and Saif Ali Khan were the first to receive the formal invitation. Other reports suggest that Shahid's ex-flame will not be invited.
It's Going to be a Close-Knit Affair
Reports mention that only 40 people will be in attendance at the wedding. A post-wedding function at Mira's Chhatarpur farmhouse will allegedly have as many as 350 guests.
Preparations Are Going "Normal"
Shahid's stepmother Supriya Pathak mentioned, "Lots of things happening… it is like a normal wedding house I suppose." Seems like they're experiencing the typical hullabaloo of any wedding!
We're In for Some Serious Style
Kunal Rawal will be designing Shahid's wedding outfit while Anamika Khanna is in charge of Mira's ensemble. Kunal is said to be devoting tons of time with an army of tailors to make the outfit just perfect. Little else is known about the bride and groom's attire, but we're sure we'll be getting some eye candy.
The Honeymoon is on Hold
According to sources, an exotic honeymoon is currently not in the cards for Shahid and Mira; Shahid has to return to his professional commitments as early as July 15.
Shahid and Mira themselves have kept pretty quiet about their upcoming nuptials. Hopefully we get some swoon-worthy photos after the event!