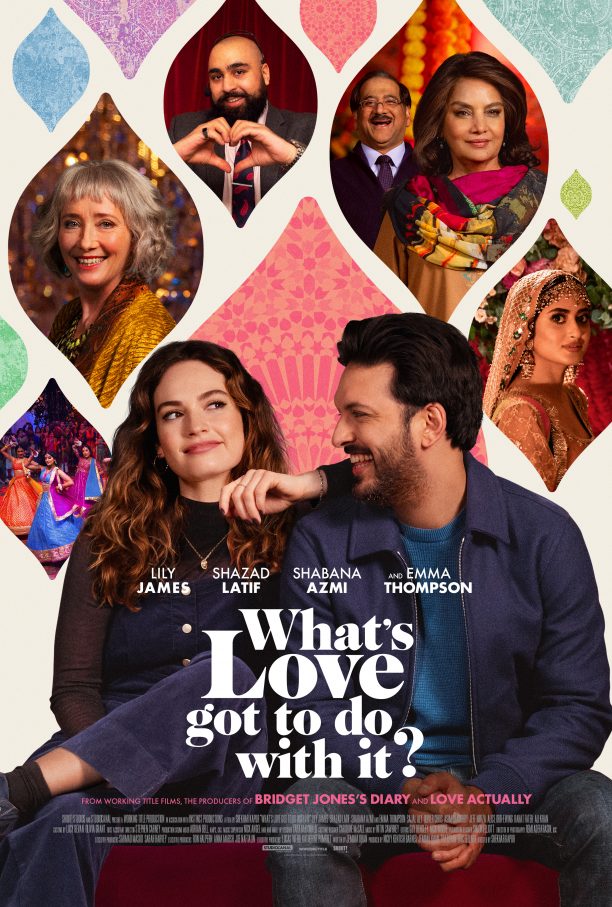 Releasing on May 5th is the many-layered romantic dramedy What's Love Got To Do With It?, featuring an incredible cast that includes Lily James, Shazad Latif, Jeff Mirza, Emma Thompson, and Shabana Azmi. Directed by the brilliant Shekhar Kapur, with a script by Jemima Khan, the film focuses on a tale of tradition, friendship, family, and, most of all, the many ways of finding love.
Set in London, this movie tells the story of Zoe (Lily James), a complex woman who always seems to choose Mr. Wrong. She is a documentary filmmaker in search of her next project. She finds it when her childhood friend and neighbor Kaz (Shazad Latif) agrees to let her film as his parents choose a suitable marriage match for him. As Zoe films his hopeful journey from London to Lahore to marry the stranger his parents have chosen, she wonders if she might have something to learn from a profoundly different approach to finding love.
With this script, writer Jemima Khan presents a deep and rich story that explores both the Eastern and Western approaches to marriage. One of the best aspects of this film is that each approach is examined thoroughly. There is no bias towards one way or another, making the film unique and special. It is about truth, finding your way, and "walking into like" before ultimately falling into love, and this all makes for a great film.
Director Shekhar Kapur handles this nuanced story with a touch of comedy, a helping of drama, and a full serving of heartfelt emotion. Each person is fully developed and so true that the movie feels real, not something we are watching on reel. Each moment, whether one of laughter, light, drama, or love, is framed perfectly. He ties each story and the emotions together so well that it is impossible not to get lost in the story.
Lily James as Zoe is excellent. She effortlessly embodies a strong career woman who is also flawed and insecure, looking to find her happiness – it is absolutely brilliant. Her eyes speak volumes both in the scenes where she is opposite someone and in the moments where she is shooting her documentary and looking through the lens, reacting to what is happening. Interestingly, she actually was filming with the camera during the shoot, and many of the shots ended up being a part of the movie. She shined in the darker moments when Zoe was struggling; it was such fantastic acting. Her chemistry with Shazad Latif was natural, making a perfect on-screen couple. From tears to laughter to everything in between, Lily James showed her talent, and I applaud her.
Shazad Latif was wonderful. He had this hopeful innocence about him that was always prevalent in his eyes, in his manner and delivery. You always believed every moment on screen. The connection and the chemistry between Shazad and Lily James sparked off the screen, made you smile, and made the movie. 
Emma Thompson is pitch perfect in the quirky role of Zoe's mom, who is at times culturally unaware, but so full of heart and love for her neighbors, their culture, and especially her daughter. She brings every line to life with energy, fun, and feeling. Every moment she is on screen, she steals the show. It is, of course, an outstanding performance. 
Shabana Azmi as Kaz's mother, Aisha, is so full of truth and depth that you sit back in awe of her performance. Her eyes are so full of feeling, love, and pain, especially in the hospital scene; you are stunned by her complete immersion into this character. She elevates the film with her performance. She once again proves why she is considered one of the finest actresses everywhere. 
I must mention that I loved the moments that harkened back to some of the classic rom-coms like When Harry Met Sally, and Love Actually or in this case contractually, and so many more. It really added an extra layer to the lightness of the film. 
The music of the film was fantastic. I especially love Rahat Fateh Ali Khan's cameo in the movie. His song 'Mahi Sona' was a beautiful highlight. I loved that we got that moment in the film. It enriched the world of the story. 
I can say, and this is both a compliment and a criticism, that it felt like many scenes were too short. A criticism in that it made the film jump too much between storylines and scenes, breaking the film's flow. The compliment is that I was so involved in the story and the characters that I wanted each scene to be more, to learn more, feel more, and experience it all more.
You will laugh, be mad, be moved, be surprised, and will enjoy every scene. But, most of all, you will be happy that you got to experience this fantastic film.
So, What's Love Got To Do With It? You will have to see the film on May 5th to find out. Do not miss it!
Be sure to also check out the interview with Lily James and Shabana Azmi!