Whistling Woods International, India's premier film, television, animation and Media arts institute, yesterday inaugurated their new Masters program in Media & Entertainment with a maiden batch.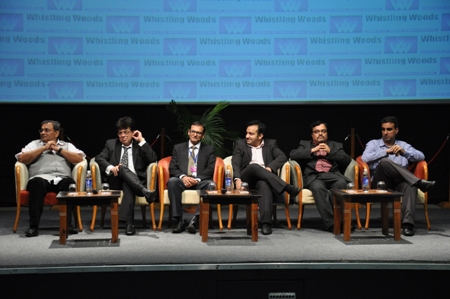 (Expert Panel (L-R) Subhash Ghai, Mukesh Sharma, Pradeep Nagda, Deepak Choudhary, Ujjwal Chowdhury, Rahul Puri)
With prominent members of the film and entertainment fraternity like Mukesh Sharma, Pradeep Nagda, Deepak Choudhary, Brian Tellis, Ujjwal Chowdhury and many more addressing the maiden batch of the MBA course, students will definitely be privy to a world-class education in all technical and creative aspects of the field.
Students opting for the MBA in Media & Entertainment, which is UGC recognized,  can specialize in Journalism across Media, Audio-Visual Communication, Advertising and Brand Communication PR-Events-Corporate Communication. The course includes 1-year of 'Basics of Filmmaking' education in which each student will learn the basics of all aspects of filmmaking.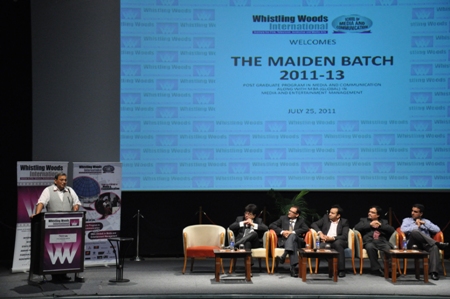 (Subhash Ghai, Chairman, WWI, addressing the first batch of MBA – Media and entertainment students)
 Students can also study several interesting co-curricular courses like Film Appreciation, International Art, Literature & Culture, and Production Design & Music, which have been specially designed for the Indian curriculum.
The Institute has been ranked amongst the top 10 film-making schools in the world and offers students who want to pursue their studies in the field of Media & Communication with various part time and full time courses.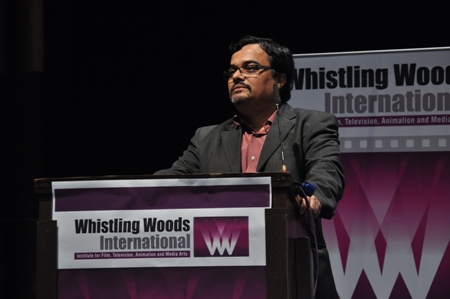 (Ujjwal Chowdhury, Dean, WWI school of media and Communication, addressing students on the Orientation day)
Whistling Woods International has initiated affiliations with several reputed International film schools around the globe. Deakin College Australia, Griffith College Australia, Bradford College UK, Syracuse University USA & NYU Tisch Singapore are some of the world-wide renowned media schools to be affiliated with Whistling Woods International. This provides students with enough opportunities to get national and international exposure and to nurture their talent towards a successful media career.