Sridevi's comeback into films after 15 years is no ordinary affair and the extended list of attendees at the Mumbai premiere goes to show just that. From the rare gems like Tabu and Konkona Sen Sharma whom we seldom see, to young ones like Sonakshi and Kangana, it was indeed a star studded affair to welcome Sridevi back. Whilst the film has been declared a hit the same cannot be said about some of the fashion choices we saw on the red carpet on premiere night.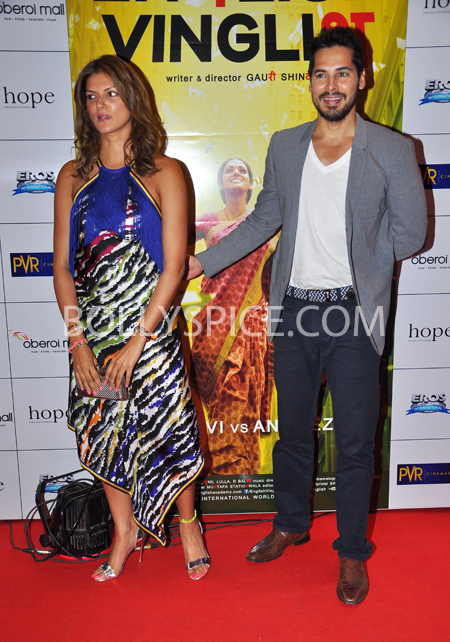 Nandita Mahtani
Really not fan of the Missoni dress that Nandita chose for the evening. Not loving the shoe choice or the hair.
Not Hot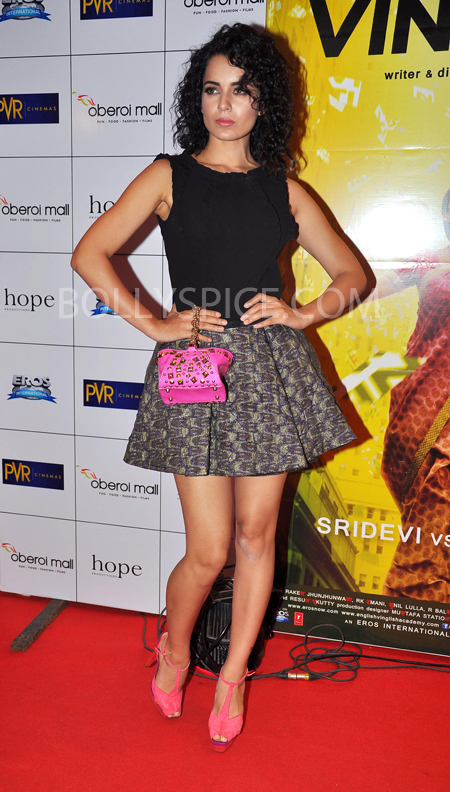 Kangana Ranaut
Kangana has been stepping it up gradually on the fashion front and I'm loving it! She works the flared dress and Versace wristlet. What I'm not loving is the added dash of pink on the feet. Wish she'd kept the wristlet to the only pink in the outfit. Regardless the look works for me.
Hot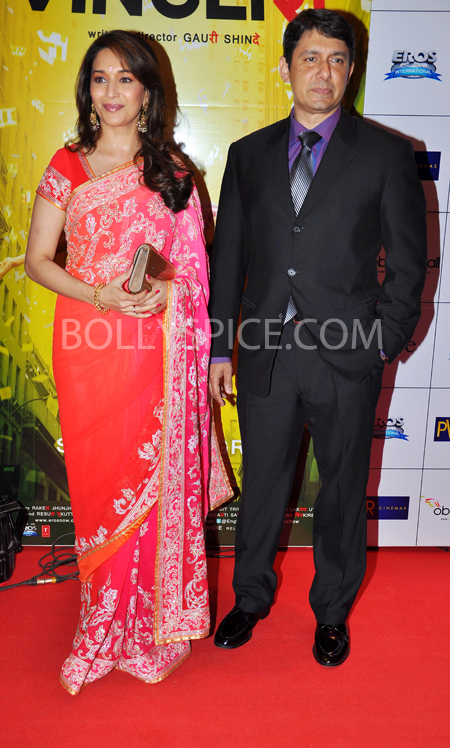 Madhuri Dixit Nene
Our prayers of Madhuri getting a new stylist remain unanswered because she was yet again spotted in an overwhelming dated saree and the same hair-do.
Not Hot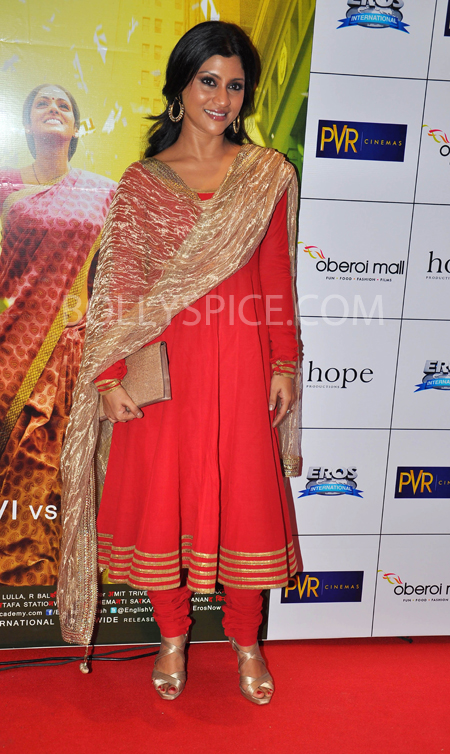 Konkona Sen Sharma
It was a simple red-gold anarkali for Konkona on the night. She looks lovely in it and more importantly styled the look very well.
Hot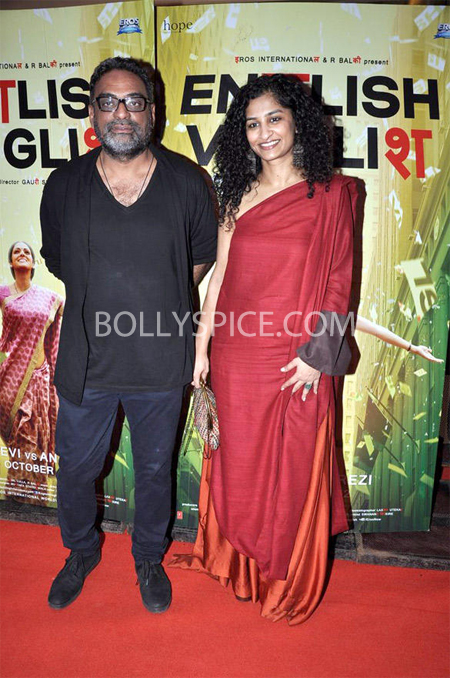 Gauri Shinde
Gauri stuck to her favourite designer, Payal Khandwala. She wears the eccentric outfit well usually but this one came across a bit sloppy. Perhaps the sizing looks off especially on the sleeve.
Not Hot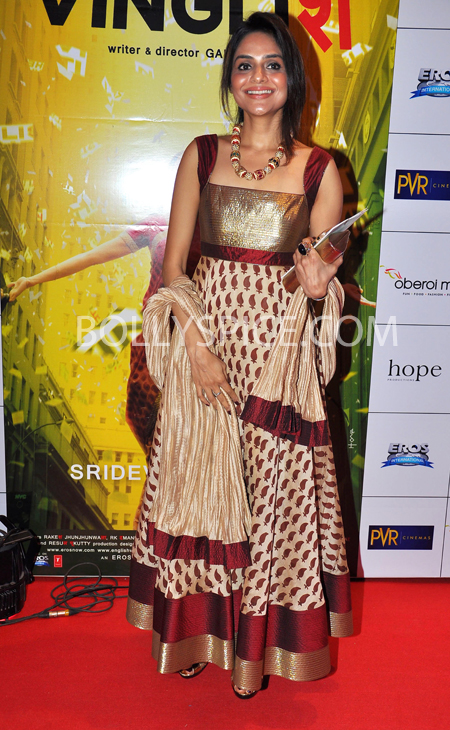 Madhoo
Madhoo was spotted in Rohit Bal anarkali. Not a fan of the design itself hence the entire appearance doesn't sit well with me. You may think otherwise.
Not hot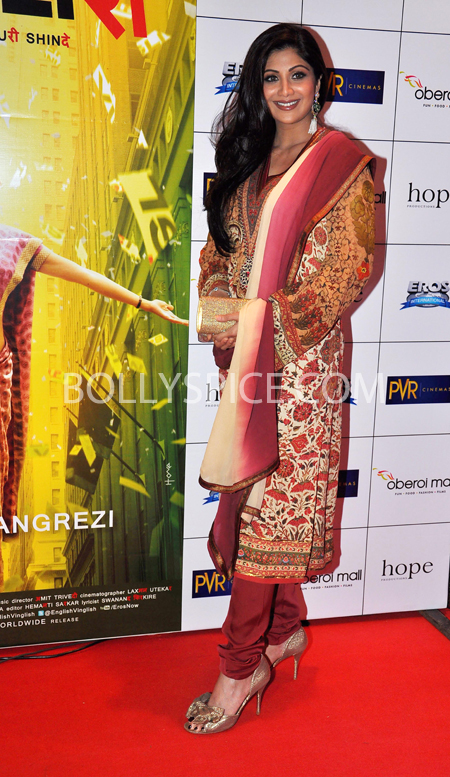 Shilpa Shetty
Shilpa opted for a printed Tarun Tahiliani churidar. Minimal styling was a good call since the print is quite busy. I wouldn't haven minded it if she'd styled her hair away from the face.
Quite Hot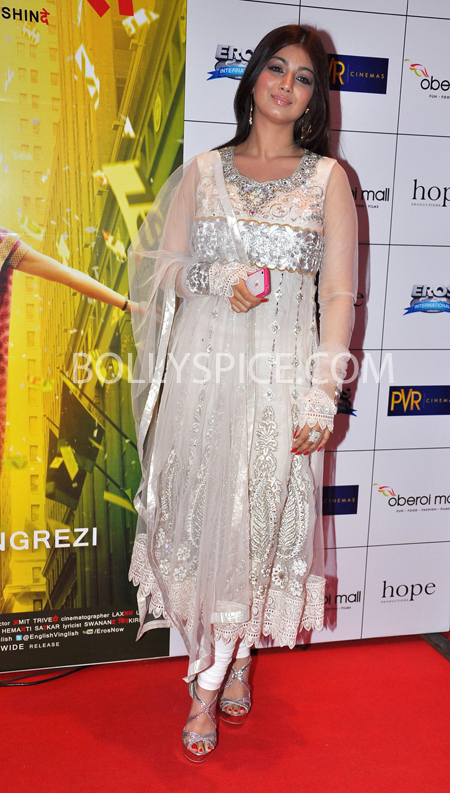 Ayesha Takia
One to always get it wrong by opting for an overwhelming outfit, Ayesha Takia was spoted doing the same yet again. The anarkali doesn't impress nor is the sizing of it appropriate (notice the sleeves). Like Madhuri, Ayesha's entire outfit was just too overwhelming and slightly dated.
Not hot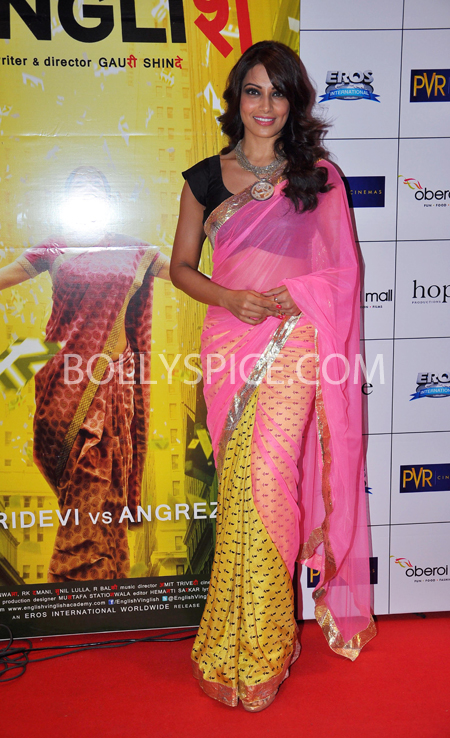 Bipasha Basu
A rare day when Ms Basu opts for ethnic wear that isn't showcasing so much skin. I'm loving it! The natural beauty look works because she indeed is naturally stunning! From the Masaba saree to the statement necklace and the carefree curls, it all works wonderfully!
Very hot!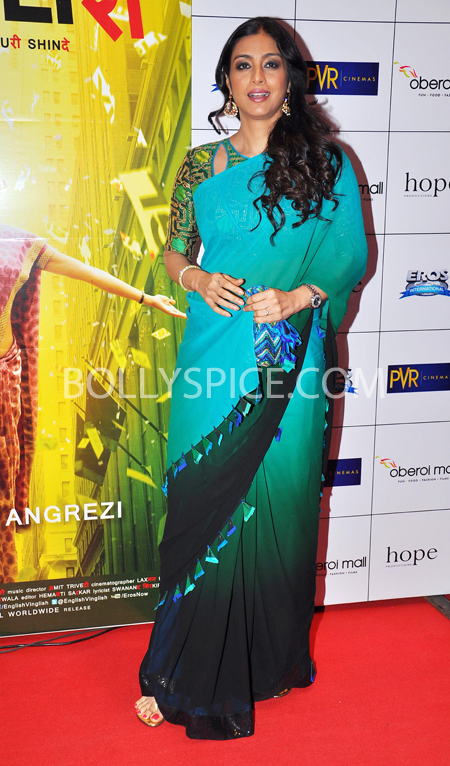 Tabu
Had someone else worn this ombre Nachiket Barve saree and I would have ruled it off but somehow Tabu makes me think otherwise when she wears it. The blouse looks quite interesting so I wish she'd pleated the pallu to showcase it more. Nonetheless, she looks effortlessly stunning.
Hot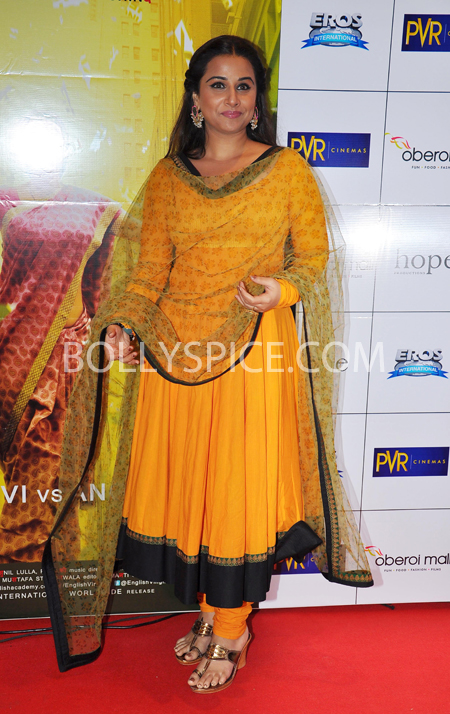 Vidya Balan
If you read these WHWN pieces often then you know how much pain I am in every time I see Vidya in yet another Sabyasachi. She's just worn out the designer to the point that I cannot appreciate whatever she chooses now. This time I was glad that she opted for an anarkali but at the same time I wish she'd experimented with a new color or pattern. She looked good, but boring nonetheless. There's so much out there that she could be look super hot in alas she doesn't experiment, yet!
Boringly Hot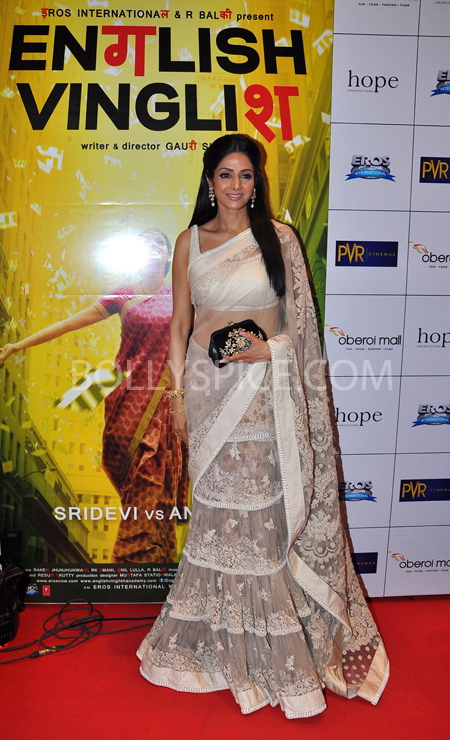 Sridevi
He's styled the film and also many of Sridevi's promotional appearances so no surprises that Sabyasachi was the chosen designer for Sridevi. Not a fan of the style of lehenga saree she's worn. Kalki at Cannes and Shahana at TIFF seem to have worn of its exclusivity but on Sridevi its something else and I change my opinion on the design also! She wears the net so well and the styling is as charming as the rest of the attire. Unlike Kalki at Cannes, pairing hers with a Sabya clutch was a good call.
Hot
Neelu Sodhi
Really not feeling the styling or the attire for one of the stars of the film, Neelu Sodhi. A brave and bold call with the gown but unfortunately it didn't pay off.
Not Hot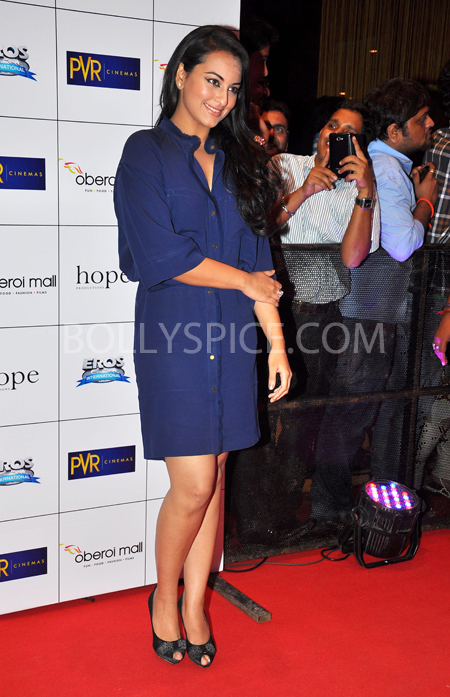 Sonakshi Sinha
Ms Sinha's look had elements that clashed with each other. Whilst the hair, makeup and heels were formal, the shirtdress was more of an "I stole my boyfriend's clothes in a rush" look. Really not sure what she was thinking or what she'd envisioned in her head that she couldn't execute.
Not Hot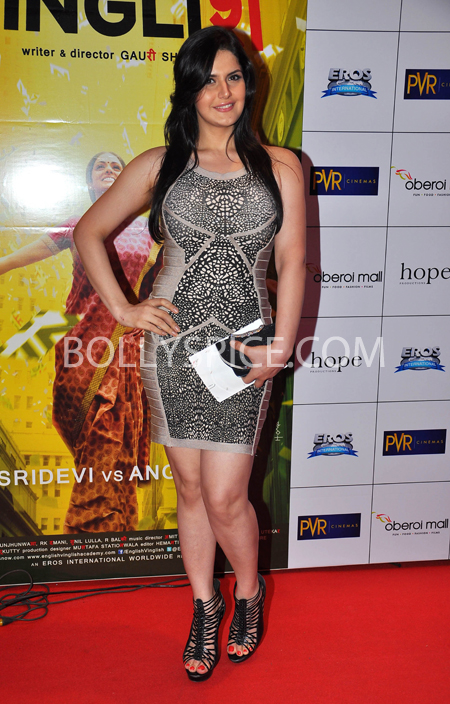 Zarine Khan
Zarine opted for a patterned bodycon dress. I really don't mind the dress or the shoe choice but just don't think it was the best look for Zarine. You may think otherwise.
Not Hot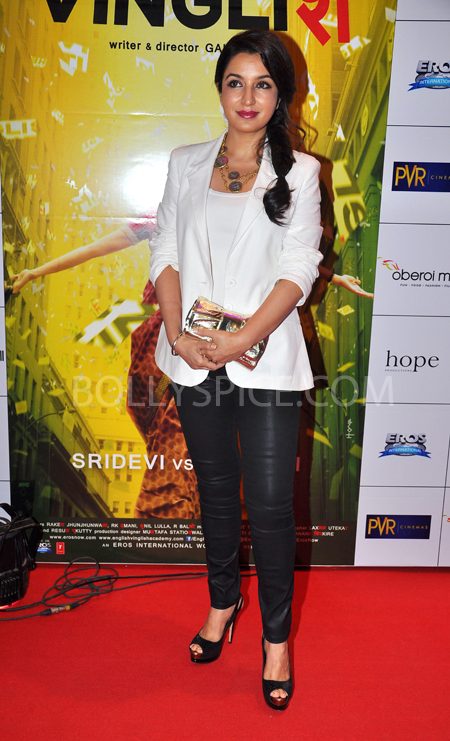 Tisca Chopra
It was a suit for Tisca Chopra and she carried it off well with the added necklace and side plait. I'd be lying if I said I wasn't worried about the fabric of the pants which comes off looking a bit shiny in the pictures as if it were leather pants but here's hoping that is just the flash being unkind to Ms Chopra.
Quite hot.