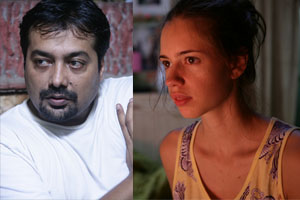 They began as a director and actor and delivered an excellent output in 2009's hit Dev D. Then came the brilliant Shaitan which was produced under his banner. And now, Anurag Kashyap has donned the Director's cap again and is back with his actress wife Kalki Koechlin in the internationally acclaimed movie, "That Girl in Yellow Boots".
Though their association has been a successful one always, Anurag says that this would be his last intense movie with his wife. "Yes I am very serious about it. I won't work with Kalki again till the time I have a lighter romantic film for her. When we work on intense films, our relationship gets very intense. It takes a toll on our personal interactions." Besides this, he also added that the chances of creative clashes are high while working on the same project, and convincing the other becomes difficult at times.
This again stresses out their relation. And for them, their relation is more important than anything else. So they decided to keep their relation safe by avoiding working together.
Anurag also clarified that he doesn't add a special character in the script only to include his wife in the project. In fact he includes Kalki only if the script has a character that suits her. To support this claim, we have his next film "Gangs of Wasseypur" which does not have his wife in it, since the script did not require any character that suited Kalki.
But as of now, we have our eyes set on TGIYB. After winning hearts internationally, we hope this movie does the same in India too.