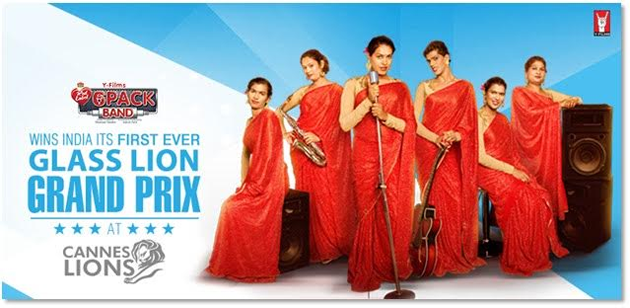 Y-Films and India's first transgender pop band, the 6 Pack Band, created history late Monday night by winning the coveted Cannes Grand Prix Glass Lion at the Cannes Lions Festival. The unique innovation, a first of its kind ever for an Indian campaign, in collaboration with Mindshare Mumbai and Brooke Bond Red Label, won the award for its extraordinary campaign around gender rights and outreach.
This particular category of the Cannes Lions Festival awards creative work that celebrates culture-shifting creativity and addresses and impacts gender inequality, imbalance or injustice. 30 odd brands have competed from across the world, including four from India, but the unique 6 Pack Band initiative that highlights the hidden talent of the 'Hijra' (transgender) community of India, was chosen as the winner of the highest Cannes Lion award for the incredible impact it has had in battling prejudice and discrimination against the transgender community. With a population of over 1.9 million transgender people in India, who find employment and even social acceptance an impossible challenge, the transgender band's 'Hum Hain Happy' song and its following videos present a positive, optimistic and change-oriented mind set for India.
In a category that is driven by Hollywood veteran actor Geena Davis and corporate role model Sheryl Sandberg, this award is given to a project that's delivered communication with the potential to bring about worldwide change. A huge creative recognition, the world's leading brands and campaigns from top advertising agencies competed for this prize. An independent film studio has never been nominated and considered for this in the history of the Creative Lions.
For the category of the Grand Prix, there were four nominees from India and each of the campaigns focused on social awareness and empowerment. Yet, the Six Pack Band, with its 'Hum Hain Happy' campaign has come out on top. This is the second international recognition for the 6 Pack Band. Recently, Y-Films and the 6 Pack Band won India its first Webby Award, the Internet's highest honor, in the Public Service and Activism category. The jury for the Webbys comprised of luminaries like Kevin Spacey, Jimmy Kimmel, Biz Stone and Shane Smith.
The 6 Pack Band has been conceived and produced by Y Films, the youth wing of Yash Raj Films. So far, the Six Pack Band has released five music videos, featuring the likes of Hrithik Roshan, Sonu Nigam and Arjun Kapoor, on the Y-Films official YouTube channel, garnering over 10 million views on its social platforms. Already the most critically and commercially successful pop band of India today, the sixth and final song of the 6 Pack Band will launch on the Y-Films YouTube channel on Tuesday, 28 June.
Says Ashish Patil, Y-Films, Brand Partnerships & Talent Management: "From an idea that started at a traffic signal to it now picking up what is considered the ultimate benchmark for judging creativity – we at Y-Films are honored & humbled to bring home India's 1st Cannes Grand Prix Glass Lion. We are also thrilled to have partners like Brooke Bond Red Label & Mindshare who gave this ballsy idea wings. Bajao taali!"
Said Madeline Di Nonno, Head of the Glass Lions jury and CEO of the Geena Davis Institute on Gender in Media, "The approach was incredibly inventive, in actually creating a band and using music and some very popular experiential pop-culture entertainment, which was very significant. And then, backing it up with some incredible videos, which really engage consumer and speak to our humanity. It hit all the check marks that we could possibly want."