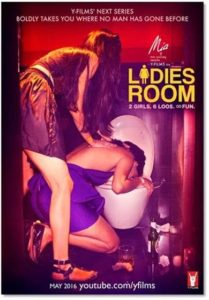 After a wacky and badass poster that went viral on the internet, with the motion poster itself garnering over 3 Lac views, Y-Films brings to you the wildest YRF talents together in the raunchiest and most outrageous trailer in YRF's history.
Starring two actresses from the YRF talent roster in its lead, the talented Saba Azad, last seen in Y-Film's Mujhse Fraaandship Karoge and more recently 'The Big Date' on Love Shots and an electrifying new find,Shreya Dhanwanthary, the Ladies Room trailer is the craziest you'd see a pair of BFFs (Best Friends Forever)behave – and misbehave – than you've ever seen any time in Bollywood so far. These girls are mad, bad and completely unapologetic about it! 
A story of two besties, Dingo and Khanna, and the mental adventures they go through in six different loos over the six-episode series, Ladies Room is a show about modern young 'girl  bros' struggling to grow up even as they grow old. Tackling in its every episode issues from unwanted pregnancy to unwanted d**k pics, the series will boldly go where no man has gone before, and the trailer promises to live up to that tagline in more ways than one! 
The series is directed by Ashima Chibber, whose directorial debut was the hilarious critical and commercial hit, Mere Dad Ki Maruti. The comedy features the writing of Ratnabali Bhattacharjee and Neha Kaul Mehra and holds the singular feat of never showing men in their entirety. 
The third original series by the premiere youth studio of the country is slated to release on May 31st, 2016 on www.youtube.com/yfilms. Mia By Tanishq is the presenting sponsor of the series.
Mia by Tanishq is inherently a brand that has affordable work wear jewellery. The TG that they are targeting are women who are hooked on to webisodes like Ladies Room. So in an attempt to connect to the mindset of the spirited woman, Mia and YRF have decided to tie-up
Mia- As beautiful as your work. The Mia woman is a spirited, strong and confident woman who is very good at work and loves to carry herself well at work. She is also aware that she is good at what she does and she feels it's important to bring her best as well as look her best. 
Says Ashish Patil, Head of Y-Films, Producer, Ladies Room, "The women's washroom is a sacred space, where shit happens – literally & otherwise. A place where girls groom, gossip, laugh, cry, bitch & more. Women will find it completely relatable and guys will hopefully get the answer to the question that's been troubling mankind forever – why do women go to the loo in groups! We're thrilled to have a partner like Mia from Tanishq on board who help us make the girls and the show even cooler than it already is! 😉 Just like Dingo would pick up Khanna if she falls – right after she finishes laughing at her – we're glad they're on board to watch our backs!"