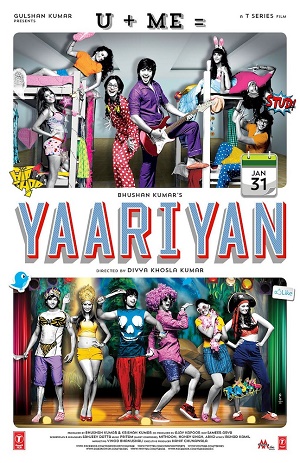 Yaariyan is an upcoming romance which has been directed by Diyva Khosla Kumar and is all set for theatrical release on 10 January 2014. Based on a story of 5 friends recollecting their best moments in college, the film stars Himansh Kohli, Serah Singh, Dev Sharma, Rakul Preet Singh and Nicole Faria in pivotal roles. The music to Yaariyan has been created by a number of famed composers such as Mithoon, Pritam, Yo Yo Honey Singh, Anupam Amod and Ariko Pravo Mukherjee. The lyrics have also been written by a selection of writers that include Amitabh Bhattacharya, Irshad Kamil, Mithoon, Yo Yo Honey Singh and Ariko Pravo Mukherjee. So is the music to Yaariyan worth listening to? Read on to discover our verdict!
First up is Sunny Sunny, which is sung by Yo Yo Honey Singh and Neha Kakkar. This is a nice upbeat number which flows well throughout. The vocals match the tone of the song quite well and they give it that added spice to it. Overall, do check this one out if you are part of the youth clan!
Next up is Baarish, which has been performed by Mohammed Irfan and Gajendra Verma. One of the things which appealed most to me about this particular song is the poignant lyrics. They have been well-written which ultimately gives the song that meaningful touch to it. However, I should also warn that the song is quite over-stretched so may not win over those who like their songs to be kept short and sweet. Nevertheless, I recommend that you try it out as it has clearly been composed with a lot of effort. There is also a Remix version of this song by DJ Shiva which is quite decent and you may wish to check out since it has great drum and bass and techno elements to it!
Following this we have ABCD – Yaariyan, sung by Benny Dayal, Shefali Alvares and Yo Yo Honey Singh. This is a club number which is oozing with drum and bass throughout. I personally found this song to be slightly dull and unlike some of Yo Yo Honey Singh's other hits; it just does not have that wow factor to it. Sorry but this one gets a thumbs down from me. There is also a Remix version by DJ Kiran Kamath, which is not bad, but nothing special either!
We also have Allah Waariyan and it has been sung by Shafqat Amanat Ali. I love the Sufi elements to this song and it has been arranged wonderfully by the composers. Shafqat also performs splendidly and his voice makes the song all the more magical to hear. Overall, this one is a winner for me so do check it out for yourselves.
Love Me Thoda Aur is next and is performed by the amazing Arjit Singh. I very much liked how the song opens with the use of the piano. There is also a nice execution of the guitar mid-way through the song. This one has a soothing feel to it, which will enable you to appreciate it. Arjit also sings quite well (though by no means is this the same as the incredible Tum Hi Ho). Yet I say this is worth a listen so give it a chance and it may sway you.
Following this we have Mere Maa, sung by KK. The song does have a nice rock and roll touch to it, which is catchy to a certain extent. However, in general, the song was a tad boring to listen to (despite the fact that it may well be integral to the plot of the film). The same goes for the second version by Anupam Anand and the Reprise version (sung by KK also). I'm disappointed, considering the fact that this could have been a really amazing song. Though it may be an important song for the film, I wouldn't recommend you to include it on your iPod playlist.
We also have Zor Lagaake Haishaa, which has been performed by Vishal Dadlani. This one did not appeal to me at all and essentially falls flat completely. The music and vocals just did not work for me, thereby making it a totally lacklustre song. Hence, give this one a miss!
Mujhe Ishq Se is next, which is sung by Tulsi Kumar and Gajendra Verma. I'm not a huge fan of Tulsi Kumar, yet I really did enjoy her vocal performance in this song. I think it's unusual and blends well with the composition. In addition, the lyrics are lovely too, which makes it more intriguing to listen too. I recommend that you give this one a listen as it may well sweep you off your feet!
Finally there is Yaariyan Mashup by DJ Kiran Kamath. Normally these types of remixes work if the majority of the songs in an album are good. However, given that only a handful of songs from this album are listenable, this made it tough for me to enjoy this particular mashup. Normally DJ Kiran Kamath makes great mashups, but this one was just not enjoyable for me.
To sum up, Yaariyan had all the ingredients that could have made one amazing soundtrack. However, only a selection of songs are worth listening; with many not at the standard that it should be. Having said this, I have heard worse Bollywood soundtracks in the past, so this one at least has some appealing factors to it that you may well enjoy!