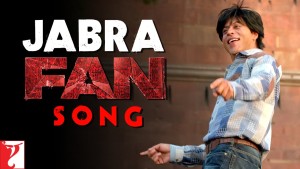 Shah Rukh Khan's young, adorable and exuberant lookalike self in Yash Raj Films' 'Fan' had stunned and impressed everyone! Now, the Fan Anthem i.e. 'Jabra Fan' from the film 'Fan' is set to become a clutter breaking, popular chartbuster across the country in not one, not two, but six different languages! Nakash Aziz has sung 'Jabra Fan', in Hindi with catchy lyrics by Varun Grover and composed by Vishal Shekhar. A super hit already across radio stations and various platforms, the song will now has six other manifestations!
In an innovative form of outreach, YRF has designed 'Jabra Fan' in six different regional languages. The idea was to deliver a National chartbuster, in a true sense and on a varied, large scale. The song has been recorded in Tamil, Bengali, Gujarati, Punjabi, Marathi and Bhojpuri too. For each song, the region's most popular singer has been incorporated, with appealing lyrics. In Bengali, Anupam Roy has sung the Fan Anthem to lyrics by Priyo Chattopadhyay. In Gujarati, Arvind Vegda has sung to lyrics by Roshan Thankar. The peppy Punjabi 'Fan' anthem has been sung by the super popular Harbhajan Mann with lyrics by Shellee. In Tamil, Nakash Aziz has sung the song to lyrics by B Vijay. And in Bhojpuri, Bihar's favorite Manoj Tiwari has sung the song to lyrics by Dr Ranju Sinha. In Marathi, the home state of the Hindi film industry, Avdhoot Gupte sings the song to Guru Thakkar's lyrics. With 'Jabra Fan' thumping from speakers and radio stations across so many Indian states, the film's popular appeal is bound to multiply. But the creative and innovative thought behind the six regional anthems also captures the pan Indian craze that cinema icons drive in our country. Once again, here's a novel idea that we doff our hat to!
WATCH ALL OF IT HERE!
FAN RELEASES ON APRIL 15!