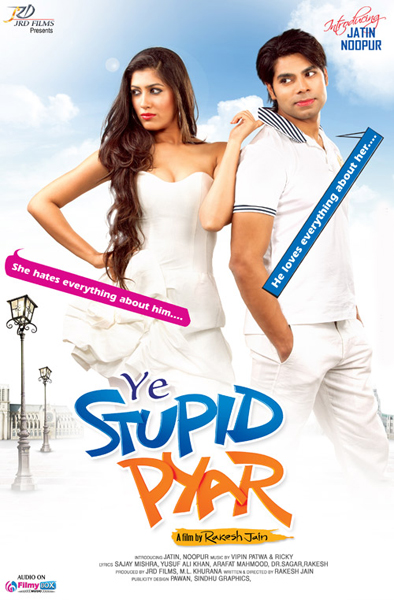 Sometimes you just don't get the subtle hints that come your way. Or maybe like the pyar in this movie you are sometimes plain stupid. So even after seeing the disaster of a promo, the entirely empty multiplex and the somewhat incessant ads on the screen about emergency escape exits, I still decided to go through the gem of a movie called Ye Stupid Pyar.
The ad hoc scenes contribute to make a storyline which goes like this. NRI Abhishek (Jatin Khurana) meets salsa teacher cum gym trainer Neha (Noopur Patwardhan) and falls in love with her. They get married and move to Bangkok – on her insistence – but she disappears the first day itself. Enter Abhishek's college best friend Simran (Akansha Shivhare) who helps Abhishek in finding Neha and the reason behind her leaving Abhishek.
When the previous paragraph itself sounds silly enough, I wonder how the makers decided to go ahead with the movie after reading the entire script. Turns out the movie is produced by the actor's father. Well that clears things. Now according to the official movie site Rakesh Jain, who has written and directed this movie, has 22 years of experience in the film industry which you wish he had put to good use for this film. Ten minutes into this movie and you are already waiting for the end credits. The acting is amateurish, cinematography by M.A.Shaikh is grainy and sloppy, Rajesh Kanchi's editing is so-so and choreography by Tejas Dattani, Reshma Khan, Sagar-Bape and Rajiv are strictly average. In such comparison, music by Vipin Patwa and Reeky seem decent until you pay attention to some of the lyrics (penned by Dr. Sagar, Sanjay Mishra, Yusuf Ali Khan and Arafat Mahmood). We have had songs with cheesy lyrics but "Bingo si namkeen lage re" is taking it to an entirely different level. Complementing them are Rakesh's dialogues which border from ordinary to sometimes purely hilarious – sample a scene where after the wedding an emotional heroine tells the guy, "Mera dil soch soch ke sink ho raha hai." Pure genius!
As far as the acting skills of the lead pair are mentioned, the less said the better. During a scene in the movie the girl tells Jatin's character,"Kaunsi duniya main rehte ho tum jahan tum apne aap ko bahut bada hero samajhte ho." And you feel that she is mirroring the audience's sentiments. With no onscreen persona and limited acting skills, Jatin only helps in making the movie worse. Noopur scores a teeny weeny bit more over him but then one drunken scene with the two and you know what expectations are to be set. Akansha is definitely a lot better in her minuscule role and there's a "comic" character (Multiplex) played by Sahil Vaid at which point you know that the makers haven't yet recovered from the 90s era. Special mention must definitely be made of Pummy whose portrayal of the hero's loving, caring mother could put the Nirupa Roys and the Reema Lagoos of the industry to shame.
"Kya inki koi stupid story hai?" screams the tagline of their site. For once you agree with them. It's a pity you don't have any negative ratings….I will have to suffice with a half star for this one.