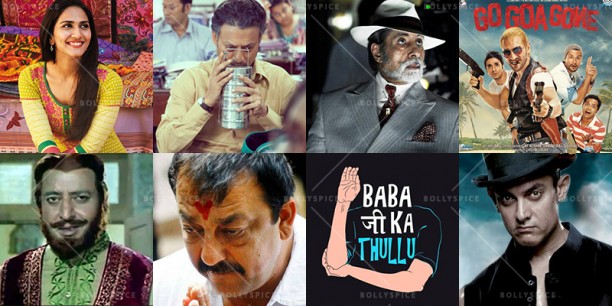 A for Aam Aadmi Pictures – Shahid, Lunchbox, Gippi, Akaash Vani, biopics and stories on common person ruled.
B for Babaji Ka Thullu – What by and large audiences believed they got after walking out at the end of most releases this year
C for Curious case of Comedies – Matru.., YPD2, Besharam, Sooper se Ooper.. Humor was lost on the audience, as was the smile of the producers after the release of these films.
D for Dhating "Naach" and all those bizarre choreography dance movies, Babli's chest-gun shots, Ranveer's dandruff-riddance move, 'Tamanche pe Disco' and then there was 'Tooh'.
E for Ek, Do, Teen… the crore counting club that's adding zero's on the go.
F for Femme Fatale Konkana Sen Sharma, Nimrat Kaur, Shilpa Shukla, Supriya Pathak, Padmini Kolhapure.
G for Going Global. Big B's appearance in The Great Gatsby, Vidya and Nandita Das's presence on Cannes Jury (separate categories), Priyanka Chopra's music video feat. Pitbull, and being chosen as the GUESS ambassador, Spielberg, De Niro, Sharon Stone arrive in India to be part of literary events and social causes.
H for Heroes are the new villains. Akshay, Ranveer, Neil, John Abraham, Aamir played the bad guy with élan.
I for Ishq Friendship wala love, Shakespeare wala love, Fanaa wala love, lunchbox mein letter wala love, culture barrier breaking wala love, wrist slash stalker wala love. Aashiqui as we know it; was celebrated.
J for Joint accounts. Collaborations were the buzzword. Phantom films, Balaji, UTV, and Dharma co-productions in the offing. Bombay Talkies had four directors coming together to honor cinema. Indie films found mainstream Bollywood backing with likes of Kiran Rao, Karan Johar lending their support.
K for Kandid Konversations on the Koffee Kouch. While the media speculated and gossiped, Karan got celebs stirring quite the steamy confessions on the show.
L for Leela jaisi koi nahi. Deepika Padukone. She risked. She rose unscathed. She conquered.
M for Musical chairs. Actors produced, directors acted, producers became directors, they all wanted bites of the others' pie.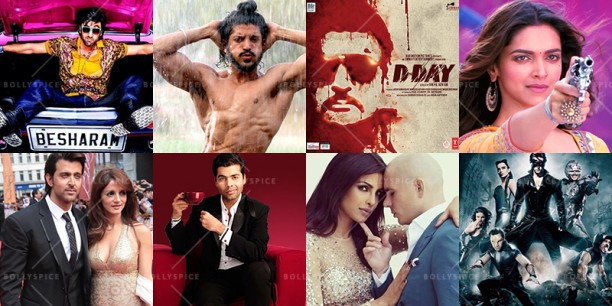 N for Newbies on the block. And a promising lot at that! Sushant Singh, Tapsee Pannu, Vaani Kapoor, Siddhanth Kapoor and a very special debutante – Asha Bhosle who stole our hearts in Mai.
O for Obituaries. Jiah Khan, Pran Saab, Rituparno Ghosh, Shamshad Begum, Manna Dey, Jagdish Mali, SriHari, Farooq Shaikh among others. The year was cruel. Our prayers with the families and loved ones.
P for Promotional Atyachaar. Switch channel : celebs on reality show; Switch : celebs on talk show; Switch : celebs on news channel. Switch off.
Q for 'Quote se Court Tak' – Everything Bollywood said or did hit headlines. SRK was pulled up for plagiarizing speech, Mallika called India "a regressive country for women" during an interview, Cast of Ram-Leela was booked for vulgarity, Munnabhai was convicted by TADA, legal dispute over Zanjeer copyright, Salman Khan was booked for hurting religious sentiments of Muslims in BB7.
R for Rise of the Zombies. Go Goa Gone gave Bollywood its first ZomCom, entertained and taught a lesson or few.
S for Shuddh desi sets. While some filmmakers shot at real locations – Jaipur, Delhi, Kolkatta, some others took creative liberties and used the nearest hill station to symbolize another locale. For better part to fit, using live shots than sets, couple filmmakers showed how it's done.
T for Tweet tales. Salman vented about bad customer care for his luxury car, Hrithik went online with his proclamation of love, celebs wrote in support of social issues, Bollywood ranted, raved, patted each other's backs, dominated the platform personifying the term 'lil birdie told us' to the T..
U for Underworld drama. David, OUATIMD, D-day, Shootout at Wadala, the fascination with gangsters and their lives continued.
V for Vocabulary. Maanwar, kaddu katega, tattad tattad, bum pe laat, 'cuddly pudding pie'… lyrics plus dialogues got weirder and lots of gandi baat happened chingam chabake.
W for We have learnt GHANTA. Past 12 months in 2013, hardly anything seems to have evolved in Bollywood. Remakes, sequels, formulaic films won some, lost some, not much significant to write about. Same old, same 'ol!
X for X-files. Separations, divorces made for ugly headlines while some exes' let bygones be just that and delivered blockbusters.
Y for 'Your's truly' signed open letters. Katrina wrote one to the media for intruding on her privacy. Media wrote another to Ranbir for misbehaving. (for related or unrelated reasons).
Z for Zinda. The BMB track! The Lootera track! plus also to revel our survival of another year at the cinemas. Yay!