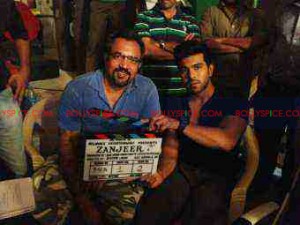 Ever since its announcement, the Zanjeer remake has been in the news for varied reasons – beginning with speculations on the cast, on to remake rights issue, then to everyone's curiosity on how well legendary actor Chiranjeevi's son Ram Charan will debut in the iconic character of the angry young man played by Amitabh Bachchan in the original.
While the team is tight-lipped on the project, Director Apoorva Lakhia (of Mission Istanbul) fame is cautious about the details that are leaked from the sets. Recently a picture of Ram Charan in police uniform made rounds of the internet, much to the excitement of his fans.
Meanwhile we have a pause-and-you-miss-him catch-up with the actor who is currently juggling three film shoots and his wedding preparations (June 14th). "Time flies fast when you are having fun," he states with a warm smile. We get talking about his stay in Mumbai for the first schedule to which he confesses to be impressed with the professionalism in the Hindi film industry. "I like that people value time seriously". Not forgetting the warm reception he's received from the industry with rumored multiple visitors dropping by regularly on the sets. "Amitabh sir is a good friend of dad and it felt nice to receive his blessings."
He admits to having had seen the original but is refraining from repeated viewings of the Bachchan starrer. "I want my character to have a personal touch," he asserts, adding "It is hard not be influenced if you watch anything several times." But comparisons with Sr. Bachchan is inevitable, I remind him. "I am used to this pressure and comparisons being Chiranjeevi's son first. This film is less of a remake, but it is my tribute to Mr. Bachchan and my father," he signs off.
The team wrapped up the first schedule in May while the second schedule would begin in mid-July. In what is being termed as a customized remake with a contemporary touch, the protagonist Vijay, a police officer takes on the oil mafia. The first schedule involved fast paced heavy action sequences which had the hero (and some stunt doubles) demolishing oil shacks while speeding at 100kms and doing 360 degree turns. Prakash Raj plays the villain, Mahi Gill plays his mole 'Mona' and Arjun Rampal reprises the role of Sher Khan from the original version. Amit Mehra is producing the movie in association with Reliance Entertainments.
39 years have passed since Zanjeer had its premiere on May 20th 1973 on a warm afternoon in the city of Joy, Kolkata. If everything works out as planned, Zanjeer remake will hit the screens just in time to commemorate the 40th year of its original in 2013. To cater to Ram Charan's huge fan base in South India, the film will be released simultaneously in Hindi and Telugu.
Check out these cool shots of Ram with Mr Amitabh Bachchan!