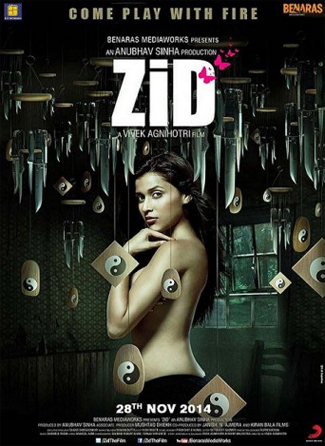 The duo of Sharib Sabri and Toshi Sabri, known as Sharib-Toshi were brought in to create the music of Zid, a bold musical thriller with a gripping tale of love, lust and passion. Produced by Anubhav Sinha, the Vivek Agnihotri directed film, which releases Friday, stars Mannara, Karanvir Sharma and Shraddha Das.
As I sat down to review these tracks I really had no expectations as to what the sound of Zid would be. So was I blown away? In a word YES! Read on to see why!
We begin with the exquisite Saanson Ko. This love song is full of everything good from the layered fabulous music to the romance-filled lyrics to the full-of-feeling vocal. Sung by the great Arijit Singh who is definitely on my favorite singer list, this song will also be going on my favorite romantic ballad list. With a flavor of a classic Bollywood track it also has its own vibe. All I can say is that I wanted to start playing this song again before it was even over. I liked it that much and I think you will too!
Tu Zaroori has a very, very cool beginning and you are not sure what to expect from this track. Sunidhi Chauhan is at her mellifluous best; she has such a pure tone. Sharib Sabri adds in a hip vocal layer that makes the song even better. The music has a wicked groove with a percussive underlay that is brill. Maybe they could have used a bit less on the echo effect on their vocals and the music at the mixing board. Overall, it is a very good song you will want to play again.
There is also the Tu Zaroori (Male) version that features a more powerful edgy vocal by Sharib Sabri. The whole song has a robust sound with a stronger, sharper guitar hit as well as a banging percussion that I really liked. Though I love Sunidhi and always will, I actually prefer this version and its wicked vibe.
Have I said that Arijit Singh is one of my favorite singers? Well, he really, really is and he once again gives his all on Mareez-E-Ishq, singing with passionate inflection – he is outstanding. Sharib-Toshi have excelled on this track creating music full of sound with so many strong layers that it surrounds you. This jam is one you have to turn up and play at 11! I did not want it to be over!
Zid begins with a haunting sad violin that then transposes to a wailing guitar both in form and feeling. Sunidhi Chauhan shows off the other side of her magnificent voice this time singing with power and a rock edge. Loved the sax riff and the cello and violin solos. Not sure that the more electro synth beats that they threw in there fit, they seemed out of place. But I will forgive that because the music is just too good and she kills it… I love her every note in this song!
Each song of the OST of Zid has this new sound, incredible instrumentation and the superb vocals are some of my favorite on any album I have heard. There are some notes that go a bit off and some beats you wish were not there or had a different groove but that is very rare. Applause to Sharib-Toshi for a soundtrack that I liked so much that I wanted to even hear more songs! Be sure to give this one a play! I know you will add all the songs to your playlists and have them on repeat! I have a feeling we will be adding these to our Best Songs of 2014 countdown list!