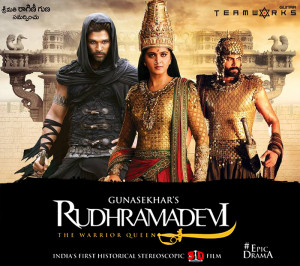 Can we please stop obsessing over Baahubali and move on? Right off, Rudhramadevi would be compared with Rajamouli's landmark achievement. Baahubali would never be made again. Thank God for that!
Rudhramadevi is another creature altogether. Vast, panoramic, spectacular and deeply resonating with relevances that go way beyond the 13th century the film is a marvel of construction and execution.
The plot is a spiraling architecture of infinite intrigue and intricacy weaving in its flamboyant fabric aeons of courtly intrigue. The narrative survives an onslaught of grotesque caricatures of evil entities from the royal durbar all plotting and conspiring to bring down the 13th century warrior-queen from the Kakatia dynasty.
There are some clumsy special effects and of course a hand-to-hand combat between the protagonist and a wild animal: No period film can be complete until the hero grapples with a four-legged creature. Also in this case the special effects are not quite of the caliber we've seen in Baahubali (that film seems to have set impossible standards!).
Despite the barrage of bullish formulism culled from the tradition of Costume Dramas, Rudhramadevi stands tall and stately. The storytelling is cluttered with compelling twists and turns. To know that this amazing gender-reversal whereby a royal heiress was passed off as a male ruler to appease the patriarchal social order actually existed, and that these astonishing events that unfold in front of our eyes must have happened in some form or another, is a thought that bolsters our already-alert interest in the narrative.
Straightaway I must state that Anushka Shetty who plays the warrior queen is the backbone of the film. It cannot be easy for a woman as attractive as Ms Shetty to masquerade as a male warrior. (Ask actress Tillotama Shome who played a gender-challenged woman in Anoop Singh's remarkable Qissa). Ms Shetty succeeds in instilling an infinite conviction as both the warrior and the the female trapped within waiting to escape and run free as she discovers romantic love and sexual awakening in the motivating company of Rana Daggubatti (excellent as Ms Shetty's warrior friend and accomplice).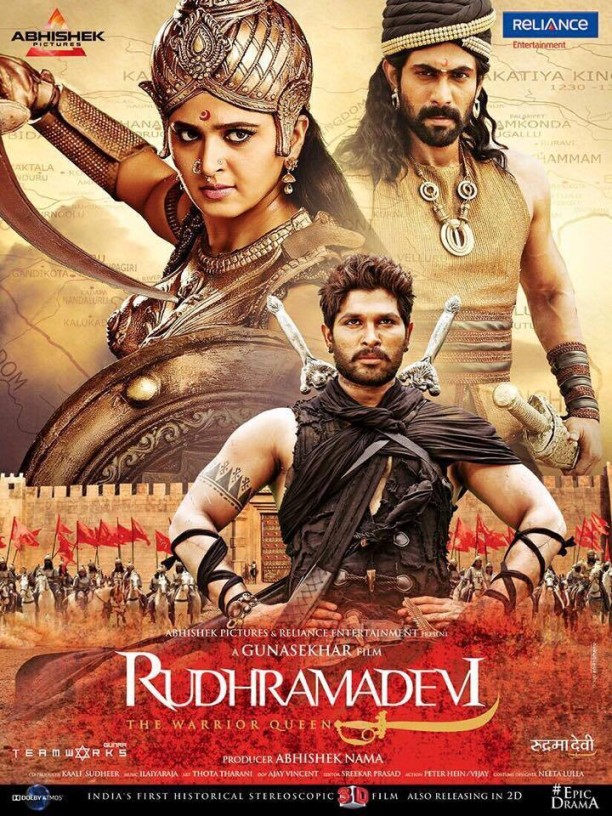 Director Gunashekar brings out the yin and yang aspects of the 'Rudra' personality with a seductive flourish. One minute Ms Shetty is harnessed in an armour, the next she's seen swaying seductively to an Ilayaraja tune, her hair flowing in a liberated cascade. The songs sound awful in translation. And if ever Telugu-Tamil films are dubbed into Hindi, please let's have fresh songs and not clumsy re-hashes.
Blessedly most of the other aspects in the passionate presentations are not lost in translation. The war sequences are breathtaking. The recreation of the Rudra's inner and outer worlds is palpably charted. Ajayan Vincent's cinematography is of epic caliber, capturing all the cascading colours drama and emotion in a clasp that makes us gasp. But Sreeekar Prasad's editing needed to be far more austere. Many scenes are repetitive and verbose.
What lingers is the aroma and angst of the protagonist's dual life. The spectral storytelling doesn't spare us the details that go into the protagonist's journey from ruler to rule-breaker. When the pubescent Rudra, so far brought up as boy, menstruates, when she discovers the first pangs of sexual arousal, when she first sees her physique…all these sensitivities of the gender conundrum are woven into the epic-scaled drama.
Admirably the other man characters do not suffer a condition of malnourished projection just to accentuate the central character's supremacy. While Rana Daggubatti provides a crackling passion for Anushka Shetty's journey from warrior to woman, it's Allu Arjun playing rebel royal-heir in exile, who steals a thatch of the thunder with his rabble-rousing dialogues and action scenes. Fans of Arjun are bound to be ecstatic.
But it is Anushka Shetty who holds the film together in a way Hema Malini never could in Kamal Amrohi's Razia Sultan. She is valorous and seductive, bewildered by the gender-subterfuge and yet in command of the critical situation that destiny has thrown into her womb.
The other extremely enrapturing women character is that of the woman whom Rudhra is forced to marry to preserve the royal masquerade of being a man. The spunky girl played by the vivacious Nithya Menon, is initially curious and horny and then happy to sublimate her will to the political demands. It's the role of a woman with a choice to walk out or remain in a compromised marriage. She chooses the latter.
Feminism has many faces in this fascinating study of gender defiance.
In almost every detail Rudhramadevi is a colossal achievement.
Gunashekar has recreated the 13th century with magnificent dexterity. This is a milestone of a film with a powerful message on women's empowerment. No matter what your mother tongue doesn't miss this opulent ode to the power of the feminine spirit to make war and babies.