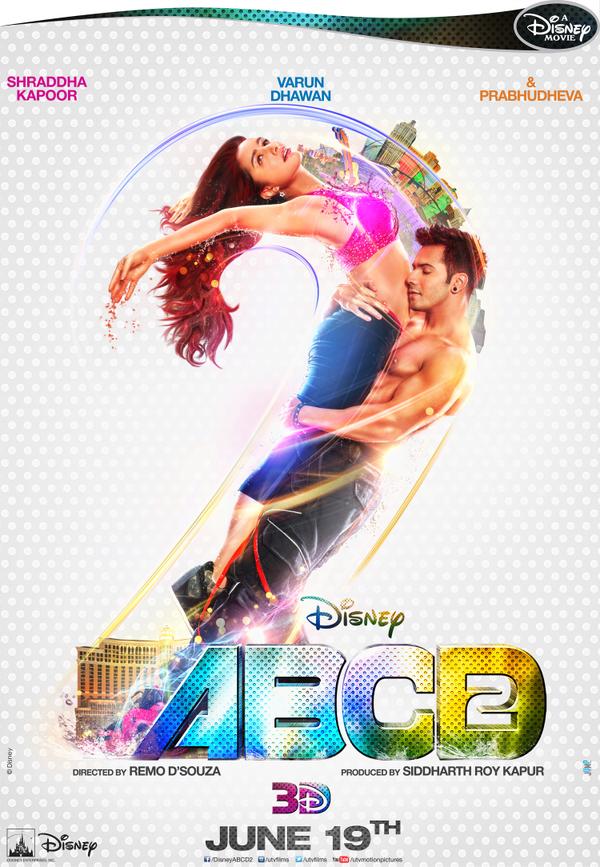 After the surprising success of ABCD, Remo D'Sousa attempts a second a bite at the apple with ABCD 2. While its predecessor featured an ensemble of dancers and choreographers from India's various dance-reality shows in starring roles along side Prabhudeva and K K Menon, the sequel features Varun Dhawan and Shraddha Kapoor in pivotal roles with Prabhudeva and the returning cast of dancers/choreographers in the periphery.
Sachin-Jigar have reprised their roles as music-director composing a 10-track soundtrack featuring the vocal talents of Vishal Dadlani, Anushka Manchanda, Divya Kumar and Mika Singh.
'Bezuban Phir Se' substitutes the videsi interludes for desi ones with Vishal, Anushka and Madhav Krishna behind the mike this time. Vishal and Anushka easily deliver the stand-out performances while Madhav's is a little underwhelming, mostly because it is hard to not compare his rendition of the returning hook with Priya Panchal and others. While both tracks are equally well arranged, the fusion staggeringly good, 'Bezuban Phir Se' is an exclamation of power and passion while its predecessor was angst-ridden plea for acceptance and understanding. Ultimately, it is a rocking track, keeping with the premise of film.
'Sun Saathiya' was inexplicably left out of ABCD's soundtrack but returns with a vengeance in the sequel with an equally beautiful picturisation to boost. Singer and writer Priya Saraiya has masterpiece on young her hands. Divya Kumar could not have been a better choice to complement melodious track. Sachin-Jigar expertly fuses sweeping Indian and Western sounds, creating a winner of a track.
The melancholy 'Chunar' is expertly performed by Arjit Singh who breaths glorious life into Mayur Puri well-penned lyrics. Sachin-Jigar's orchestration bursts into being well into the track, once again a brilliant mix of classical and contemporary, quiet yet powerful, emphasizing the underpinning pain and longing in Puri's lyrics.
Your party playlists just got a whole lot better with 'Happy Birthday'. Sachin-Jigar's mint track record with party-tracks continue, this time featuring Varun Dhawan who has to date effectively dabbled in desi-rap to ample applause. A pumping track soon to be played at high volume in residential areas, Happy Birthday's raw and silly enthusiasm is hard to ignore.
Benny Dayal channels his boy-band-alter-ego with 'If You Hold My Hand'. It is strictly listenable, if painfully obvious romantic lines are your thing, otherwise, it is unapologetically juvenile. That being said, the track owns the trope which is impressive in itself.
'Hey Ganaraya' is an energetic ode to Lord Ganesh aptly arranged by Sachin-Jigar and expertly rendered by Divya Kumar. It sits comfortably between 'Shambu Sutaya' and 'Sada Dil Vi Tu' and features more of a theatrical flare than the initial tracks.
Mika Singh's 'Happy Hour' is nothing to write home about but the musical interludes between the vocals expertly transverse and fuse a diverse range of sounds and genres.
'Naach Meri Jaan' is a well arranged Latino-track rendered by an enthusiastic ensemble of vocalists, lead by Benny and Shalmali. It is strictly likable on its own but would definitely flourish on screen when coupled with D'Souza's excellent brand of choreography.
Shefali's tongue-cheek tattoo hints at an item number. The mix of folk and contemporary language is quite witty, and Shefali commands the innuendoes with her signature style. It is an impressive twist of the genre, the pulsating beats likeable if not outstanding.
'Vande Mataram' is the least impressive number of the album. It overshoots in its efforts to create a poignant finale number. What remains is an ill-matched and underwhelming track. The disappointment is twofold in light of the ABCD's finale number and the likeability of the preceding tracks of this album.
Sachin-Jigar manage to deliver an equally entertaining soundtrack if not better in ABCD 2. The diverse range of musical genres featured demonstrates the duo's ability to think out side the box and be fearless when it comes to mixing it up. They continue to be one of the best emerging musical directors in the business and ABCD 2 re-affirms it.