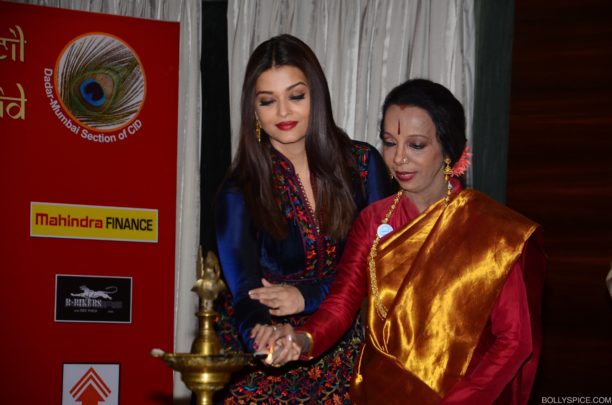 Aishwarya Rai Bachchan came to support her dance teacher Lata Surendra at the 49th World Congress of Dance. The actress inaugurated the event, titled 'Linking World Through Dance', that is opened on December 7th and runs through December 11th.
It is the first time that the World Congress of Dance is being held in India and the opening ceremony of the prestigious event was graced by eminent personalities as chief guests namely Mrs. Aishwarya Rai Bachchan who was a student of Lata Surendra (Section President), Prof. Mr. Alkis Raftis (President of the International Dance Council) and Dr. Mr. Constantin Kontogiannis (Vice president, Paris Section CID) to kick-start this dance festival.
The evening also showcased some beautiful performances by celebrated choreographers and their teams like Sandip Soparrkar with Super Model Alesia Raut and Ashley Lobo's Navdhara India Dance Theatre.
Aishwarya was overwhelmed to be there for her guru Lata Surendra and was glad to support the initiative taken by her guru to promote the art of dance. Lata Surendra also dedicated a dance performance to her student.
Talking about this international dance extravaganza, Section President Lata Surendra says, "The Launch of the first section of International Dance Council 'Linking Worlds Through Dance' can only happen when a persona whose beauty gathers the world, whose name gathers the dance and whose commitment to the cause of under privileged highlights the tenets of the umbrella of the council of international dance- the official dance partner of UNESCO. We are honored to have Aishwarya Rai Bachchan, inaugurate our festival and glad we have her support to promote the art of dance."
There will be seminars/workshops of various dance styles throughout the 5 days of the World Congress of Dance. It will mark a cultural trade fair of dance with Dance Maestros from all over the world.
CID Congresses are the largest gatherings of dance specialists world-wide, the best opportunity to showcase one's work to a wide audience of practitioners, dance teachers, choreographers, researchers, journalists, organizers and suppliers. Approximately 400 conferees from 40 countries of 5 continents attend each congress.