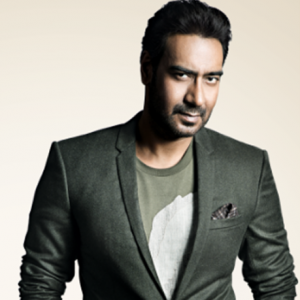 One of the best in the business, Ajay Devgn is back to action in Action Jackson. The Prabhu Deva directed action film tinged with comedy, drama, romance, dance and more also stars Sonakshi Sinha, Yami Gautam and Manasvi Mamgai. It tells the story of a fun, small time crook who gets entangled with a relentless girl who is convinced that he will bring her good luck. The consequences that result are hilarious, masala-filled and we hear from Mr. Devgn thoroughly entertaining.
The actor took time out of his very busy schedule to answer our questions on his role, the incredible action sequences the film promises, dancing with one of the best and so much more in this exclusive interview!
What goes into your decision of what role you decide to do?
It just depends; when I hear the script do I get excited about the script. Then do I think that the role is challenging enough to do something, which will need me and which I can work hard on? And apart from all that, then the most important thing is who the director is. Will he be able to conceive and shoot the way it's been thought? Also the producer and the whole team because will they be able to execute the film the way we are talking about and will they be able to release it properly the way the films are released today because it is very important.
What was it about Action Jackson that made you say I want to do this part and this film?
Action Jackson, I think, is in a full entertainment zone where there is lot of action, drama, and comedy. I would say it's more of a Prabhu Deva style film but this time it's very urban, very stylised and the touch up of emotions is also very nice. I think, also, after a long time I have done action sequences like this.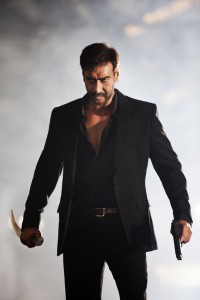 Tell us how you think of this character and who he is.
This character has a lot of shades. I think this character also has a lot of looks. He has a lot of looks and he also has a lot of shades and that's kind of, I would say, a secret. It's a script, we do not want to reveal too much, so you will see the film and you will come to know what the character is all about.
Tell us about the action of Action Jackson.
If you say for a film like Action Jackson was I prepared for action, I was. But I would say that I had to work a little harder because there are some action sequences, like the sword action moves, which I needed to practice a little.
Do you get nervous before a stunt scene?
See, if someone says that he doesn't get scared then I would say he is lying. At times you feel hesitation before a stunt scene but you are prepared for it also because there are so many people around you. There are so many specialists. The technology has improved; we have access to international technology and it's much safer now so you feel less scared. When we had started back then, all this technology wasn't there. So yes, action sequences have evolved a lot since we have started, the safety measures have gone up now and action has become lot easier.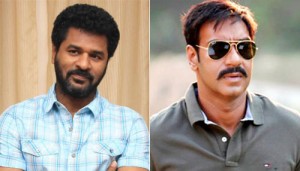 How is it to work with Prabhu Deva the director?
I think Prabhu apart from being very commercial director, he is a fabulous actor. His comedy timing is fabulous. The way he presents his actors is fabulous; those are his plus points. Where dancing is considered we don't need to talk about Prabhu Deva, I think nobody can beat him… in any way.
What do you think he brought out in you as an actor?
As I said earlier, Prabhu being a fabulous actor himself, he made me do things differently from what Ajay Devgn does, so when you see the film: the comedy, the action, the styling, everything is completely different from what I do and that was lot of fun. His comic timing is completely different; it is lot of poker-faced comedy, which is lovely to do.
Everyone in the world would be nervous dancing with the great Prabhu Deva and doing his choreography, what was that challenge like? How do you think you did?
No, I was comfortable because I knew and he knows that I am a bad dancer so it's his problem not mine. Yeah, he pushed me on it but he made me comfortable. While shooting for songs I was a little tensed but Prabhu made it really comfortable and we could finish the songs very fast. I think he made me very comfortable because as Prabhu also says he studies the body language of an actor and then makes them dance accordingly, which makes it easier.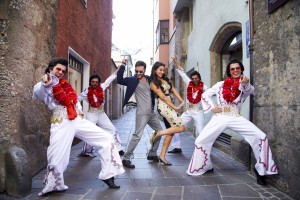 How was it to work with Sonakshi Sinha?
Sonakshi is very comfortable to work with. I have a great rapport with her. We did Son Of Sardar together and she is a thorough professional. She has no inhibitions, you know when you ask her to dance, she will just freak out. She is very comfortable doing that.
Tell us 5 things you think are the coolest about Action Jackson.
Well I can't just stick to 5 things… we had great time shooting the entire film. The entire movie is stylized Prabhu Deva style be it action, dance or romance.
What do you think audiences are going to love about the film?
I don't know, I think everything; I think from comedy to action it's a complete entertainment. When you watch the film you will feel happy, laugh, emote, enjoy the action and you will say that it was worth spending the money.
What about the music, do you have a favorite song?
There is a title track called 'AJ' which I really love. I like all the songs so I get confused, but my personal favourite is 'AJ', the title track.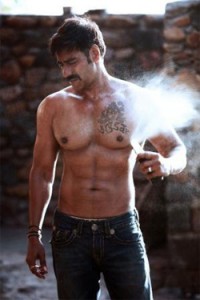 How do you stay in such good shape?
I think our job is such that we need to be in good shape. Not amazing all the time, but at least good shape so that when you have to get in a great shape it just takes you a month or so to get back into that shape. I try to work out every day, 5 times a week. I stick to a good diet because I have some bad habits like drinking and smoking but to cover that up then I stay on a good diet.
Do you have a message to your fans?
Hi guys, I hope that you all watch Action Jackson and like it because our job is to entertain all of you. Good luck.
What will we see you in next?
I am doing a film called Shivaay, which I am making myself. I will talk about when the time is right because there is still time for it.