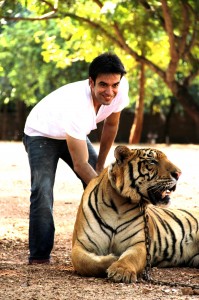 Director Punit Malhotra, who is making his acting debut with director Samar Khan's Waisi Waali Khushi, insisted on performing all his stunts by himself. He claims it was an opportunity for him to fulfil his dreams.
"It was great fun doing the stunts on my own. I have always wanted to do these things," says Punit, who played with tigers, fed them and went go-karting among other things. "All of us have a wish-list of things we want to do, which give us great joy. Feeding a tiger wasn't part of mine originally, but I'm glad I got to realise a few other things I did have on my list, and I'd like to thank Samar for that," he adds.
The director, who is all set to start shooting his next — Gori Tere Pyar Mein with Kareena Kapoor and Imran Khan — claims there's an actor within every director. "All directors are actors. They need to be actors to be able to direct, so acting came naturally to me. People only expect me to direct, so when Samar suggested that I act in this film, I was surprised but excited," says Punit.
His role in the film is of a young, successful banker who suddenly decides to cut down on his workload and obession with making money to relax and enjoy doing the things he loves.
Here is the trailer in case you missed it!