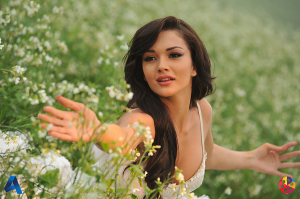 Actress Amy Jackson is gearing up for a big release. Her Tamil film I boasts Vikram as her co-star with Shankar in the director's chair and maestro AR Rahman in the music director's seat. Jackson recently appeared on Ashanti Omkar's BBC Asian Radio Show to talk about the film and the music, and we have highlights!
Talking about the romantic thriller Jackson told Omkar, "I is visually splendid, there's so much involved in one movie. You've got the action sequences, the comedy, the romance is there. It really covers a lot in one movie."
Of course she had nothing but praise for AR Rahman saying he is "an absolute wonderful music composer."
A grand audio launch was held in Chennai and Amy and Vikram performed for not only the industry and the media but also Arnold Schwarzenegger who was there as a special guest. At the launch the director revealed the Schwarzenegger was the inspiration for Vikram's role.
Talking to Ashanti, Amy said she very nervous for the live performance, "I can't even put into words…It was my first on-stage performance also, and it was fantastic. My heart was beating so fast, but when I was on stage I didn't want it to end."
I is an amazing production that filmed over a period of two-and-a-half years and reportedly is one of the most expensive Indian films ever made with a budget of 1.85 billion (US$30 million).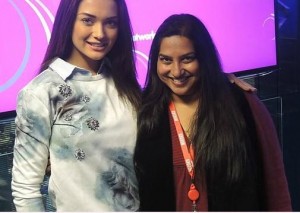 Filming took place in Chennai and then on location in China, said Amy, "We spent 50 days filming in China, it was back to back. We literally didn't have one day off. We actually covered 27 different cities in China."
The film hits theaters on November 28th, and apparently will have premieres in the US and Singapore as well. On the list to attend are special guests including Hollywood's Sylvester Stallone and Jackie Chan.
Have a listen to the entire interview here!
Be sure to check out Ashanti's show every Sunday at 2:00-4:00 on BBC Asian Network (http://www.bbc.co.uk/programmes/b04mv017)! Ashanti is also the Indian cinema expert for BBC London and BBC West Midlands, and speaks as a film expert on Monocle 24 radio.