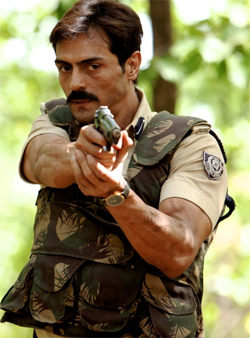 Prakash Jha's next film, Chakravyuh (A War You Cannot Escape), turns the camera's focus to the Naxalite war that is taking place in the interior villages and forests of India. In his director's notes, Prakash Jha says "I have tried to chronicle this conflict by telling the story of two friends, who eventually find themselves on opposing sides of this conflict. I have made this film to bring this conflict into public focus." The great Arjun Rampal plays one of those friends Adil Khan. Adil Khan is a cop who is brought in to try and bring law and order. His conflict comes when his best friend, played by Abhay Deol, joins the other side. Chakravyuh, which also stars Manoj Bajpayee and Esha Gupta, makes its world premiere at the prestigious BFI London Film Festival on Thursday, October 11th and then hits its worldwide release on October 24th. I got the incredible chance to chat with Mr. Rampal about Chakravyuh and what was so amazing (besides that voice) is that it felt more like a conversation about a film he is very passionate about than an interview. Read on to see what I learned about Chakravyuh.
What goes into your decision of what roles you want to do?
You know people ask me that and I've asked myself that question many times and the answer is very simple – roles and parts, which scare me I think, is what I do. That's how I do everything in life. I think all those decisions that I was scared about getting into and there was a fear, kind of filled a void somewhere within me. I overcame it and enjoyed it. I think that's what really is the biggest challenge. When you take on a film, if a character really scares you then you know that you are not going to take it lightly, you are going to give it all, because the only reason you would be scared is when you are not confident enough to do it. Every time I go into a film I am the most shaky and the least confident and slowly it builds up and I overcome my fear and I do it.
And I imagine it also helps you build the character…
Yes, yes because then you really think about it. Otherwise if you think it's going to be easy then you don't. You know every character that I have thought it's going to be a cakewalk and easy, those have been performances that even I've cringed at.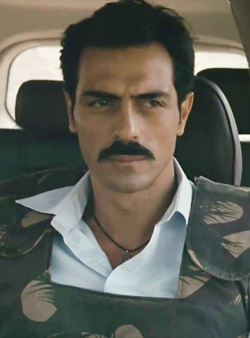 Who to you is your character Adil?
Adil Khan I think is the ultimate idealist. He is a very straightforward, very pure, very deep, very intense police officer who really believes in his job and his duty and being upright and behaving correctly. He's the 3rd generation police officer from his family and he's always wanted to be this person. He really loves his country. He is put into a situation where he's sent into an area where there is a lot of disturbance in terms of the Naxal movement that is happening within the country, this is real situation that you read about it all the time. He's gone there to bring a certain amount of law and order in that place.
But the film really is about a friendship, friendship of two boys who really are very close to each other, have got a very strong bond, and are not gay but are (Laughs) very fond of each other. They are like brothers. He's put into a dilemma when his friend goes to the other side. I think that that is what gridlocks the two very strong points of views of the film. One coming from the Naxal side and then the point of view coming from outside, which says yes there is a problem but the way that these people are dealing with the problem is not correct. That is, the guy who takes the power at gunpoint, you have to think how he's going to rule you. It's very practical, very pragmatic and very interesting arguments that happen. At the same time there is a tremendous amount of information and education that goes out to the audience watching to say, oh my God this is really what is happening within our country, which is something we should not be ignoring.
Prakash Jha seems to do that in his films. We always see the two sides and get tremendous amounts of information…
Yes we do. He researches tremendously and his research is incredible. The good part is in Chakravyuh he's not taken any side – he doesn't pick sides. He throws it out there to the audience to say this is what you are living in and that's why the film is called Chakravyuh. It's not that these characters are the only ones who are caught in the Chakravyuh. Chakravyuh is like a trap. It's this country that is caught in this dilemma it's not just these characters. It's you who is living this everyday. It's the audience who's watching. I think what Prakash is great at is giving you a very topical subject and treating it extremely entertainingly. The films like a thriller that keeps you at the edge of your seat. The dialogues are very intense. You'll say: oh no he's right, then you'll say oh know he's right, so you don't know which side to take, and that makes it engaging for the audience and that makes the film entertaining. I think it's a very entertaining clever film with a good script.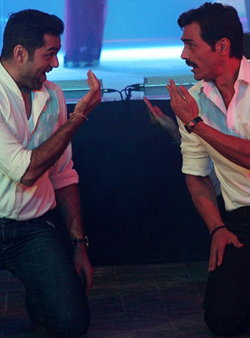 Now, how does Prakash Jha work with you to prepare you for roles like this?
He tells you that he's going to put a lot of fear into you the day he comes to meet you (Laughs). He says 'okay are you ready for this?' And then he takes you through the script and story. He's such an amazing narrator and he's so passionate. He's spent like 7 years doing the script and he keeps making them better and better and better until he says 'ok fine now I got to make this into a movie'. So that tremendous amount of research is what he shares with you. You always learn a lot from his films when you do them. You walk out feeling creatively satisfied, he promises you to go through that experience. He'll take you to the toughest of terrains to shoot in, which we've shot in. He will not exhaust you on your shooting days because he is very well planned. He knows exactly how much he wants, he doesn't get greedy about that. He never directs you on set but he will love for you to sit there and do a lot of readings with him before you go into the making of the film. That's the kind of director he is. But once you are on set he's given you the freedom to do what you really want to do and he leaves it to you. So there is no pressure when you are on set. But before we go on there he's a complete taskmaster. He'll go through every single thing very minutely and he's a stickler for detailing, which I like.
It helps you get into the character not to have to worry while you are shooting you are ready…
Yeah, so before you go you already know what you are getting into. So when you are there and the environment you create and the setting he gives you and everything that he has created out there for you to perform in is all real and is so believable that it just automatically enhances everything; all that work that you've done.
I know that a lot of this was shot in the remote areas in a jungle, tell us about shooting there.
Yeah, it's a really tough terrain. I knew it was going to be tough so I think I've been the physically fittest through this film while shooting it. I got the whole unit really physically fit as well because I carried my whole gym, Prakash carried his dumb bells and everything as well and we used to all go and work out a lot. We used to do a lot of cycling. It was a beautiful location where we shot. Incredible terrain, incredible. It was wonderful; because it was just in the forest which I think is one of the densest forests in India, just looks like the Amazon forests you know. Yeah it's really beautiful and it was lovely to be part of nature like that. We'd heard about some tiger sightings, we'd heard about some Naxal sightings (Laughs), you know all these things were there but it was really exciting. We were really there for a month and a half and yes it was during summer, shooting in heat that was like 55 degrees (Celsius). But I don't know, it went through well. I don't think anybody complained that it was tough. The unit was very, very together. It was a really strong, tough crew that we had. But again with Prakash he would start shooting early in the morning and then we wouldn't shoot when there is the peak heat like in 2 in the afternoon or whatever when the top light gets too high. And then maybe shoot like at about 4-5 and then we'd get back home. So it was because of his planning you never felt exhausted, you never felt completely drained. And we'd come back, we'd work out, spend some time together, get to bed early, it was a great routine.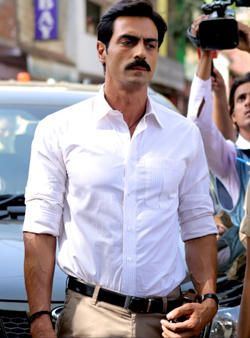 What did you take away from this film and this story?
Oh plenty, really a lot. I mean I learnt a lot about this movement. I learnt a lot about what is happening in the interiors of India. I've seen the living conditions with people and how they live in because we've shot in real villages. I've seen the diversity that is there, which is so large and vast which really needs to be bridged between the haves and the have-nots in this country. At the same time I've learnt so much more about what I do as an actor. There's so much that I learnt about Prakash, made much more stronger bonds. I take away a lot. I take away a lot of good friendships, great memories. I've come out of there feeling much wiser about the subject that we've shot and excited for people who'll get to see something that is really different, entertaining, and at the same time its going to through open many point of views about how to come up with solutions for something like this.
What's next on your film shooting schedule?
There's a film of mine that I completed with Sudhir Mishra called Inkaar. I am going to start filming from the 1st of October for Nikhil Advani. Nikhil Advani's is a complete action film and I play spy and a RAW agent. And yeah it's fun and I'm very excited because Tom Struthers who did the action for The Dark Knight, Inception, and Blood Diamond, is doing the action for this film. So it's going to be a lot of fun. I've been training a lot for that. So I get into that and then next I do a film called The Villain and that's with a new director. Then I come back to my favourite director Prakash Jha for Satyagrah.
I would like to thank Mr. Rampal for the chat and to say I can't wait to see him in this role and to see Chakravyuh. Stay tuned for a report about the gala premiere as well as my interviews with Prakash Jha and Manoj Bajpayee coming up soon only on BollySpice.com.