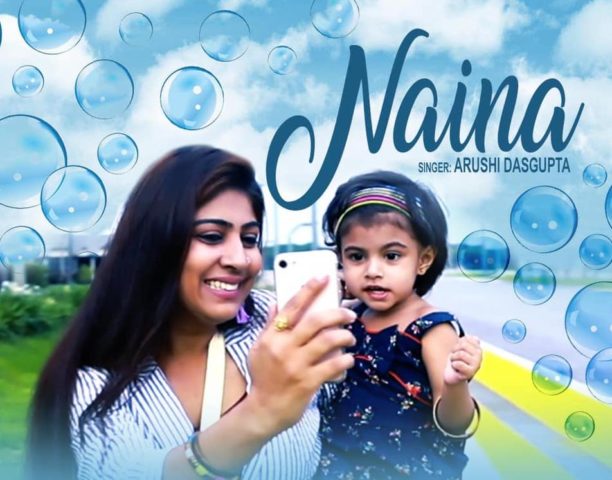 Premiering on September 14th is a new and heartfelt song titled 'Naina'. Composed and sung by Arushi Dasgupta, the song is about the beautiful relationship between a mother and child.


Arushi is married to noted music composer Gourov Dasgupta but what is so cool, is that it is this Arushi's first single. Even cooler is that the video also features their cutie daughter Vedika. 
The song was produced by Roshin Balu with lyrics by Farhan Memon with the video directed by Roshin and Gourov. But more on that later …


Ahead of the release, we got the chance to learn more about Arushi, her journey to singer and composer, the creation of 'Naina' and her incredible happiness at having her dream come true and so much more! 


Has composing music and singing something you always wanted to do?
Singing was something that I've been doing as a hobby since I was a kid…I used to ardently participate in every school and college fests and won a few awards as well!! 


I believe you were in the media corporate world, so what made you want to take this step and do this?
Yes, I started my career in the corporate world (Times of India, Hindustan Times, DNA, etc.) and after a 3_year break, I'm back again in the corporate world, currently working for Delhi Press Group, a media company. Being a part of a musical family I'm glad that God has been kind and has given me an opportunity to showcase my love for music and take tiny steps forward towards my passion.


Composing happened completely by accident…being married to a composer, Gourov would often share lyrics by different lyricists with me…in my leisure I would compose my own little tune and record them on my phone. One day I played them for my hubby and he found a couple of melodies very interesting, thankfully. Having a home studio has its benefits!! Roshin produced the tracks and we invited a couple of brilliant artists to sing on them.


The rest is possibly the beginning of a journey I never thought or ever dreamt of…


'Naina' is your first song. How would you describe it?
The inspiration was definitely my daughter Vedika… 'Naina' is a heart touching song about the beautiful relationship between Mother and Child.



Tell us about creating the track, and working with the lyricist to make 'Naina'.
Farhan Memon is an amazingly talented lyricist from Kutch, Gujarat…we've never met but he keeps sending us beautiful poetry every day and Naina is the first song I composed on the poetry sent to us by him.


I sang the hook for Gourov and Roshin and they immediately asked me to finish the track. Once that happened, we were considering various artists to sing on it, but destiny had something else in mind. Gourov played the scratch in my voice for Mr. Pradeep Guha, Managing Director of leading music channel 9XM and he immediately greenlit the song and video in my voice!!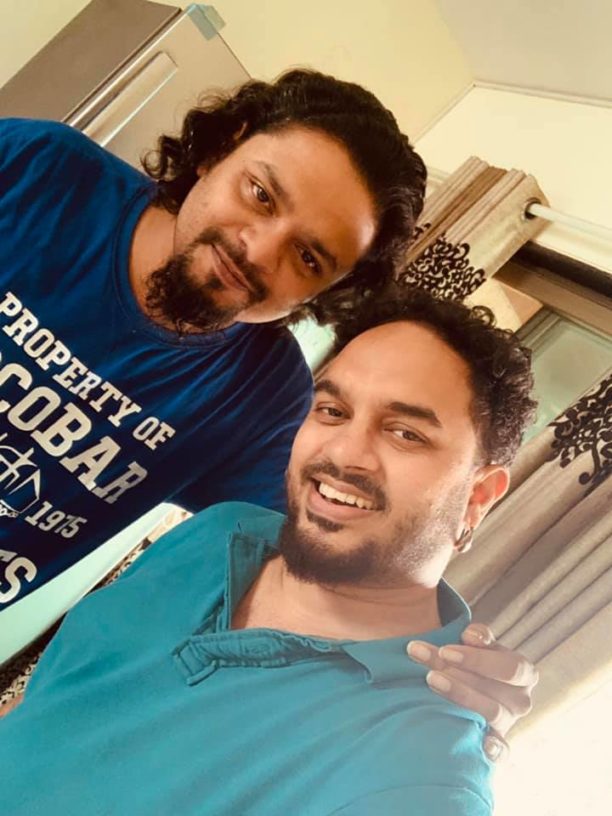 What does Gourov's support mean to you?
I am deeply overwhelmed by the support he has shown towards my one and only passion, which is Music. He has encouraged me in every step that I have taken towards creating this and has held my hand through the entire process.


As for the production, we have the best music producer in the house in the form of Roshin Balu and his magic has done wonders to the song! Gourov was overseeing the entire process and he and Roshin together have produced and directed the video as well!!



Tell us about first stepping in front of the mic to sing. Were you nervous? How was it to sing your own song?
I guess since we have a studio at home, I have been accustomed to experiencing some of the best artists sing and perform behind the mic every day. When I had sung the scratch, I had no idea that it's gonna be retained, hence I gave my best shot unknowingly without gauging the outcome!!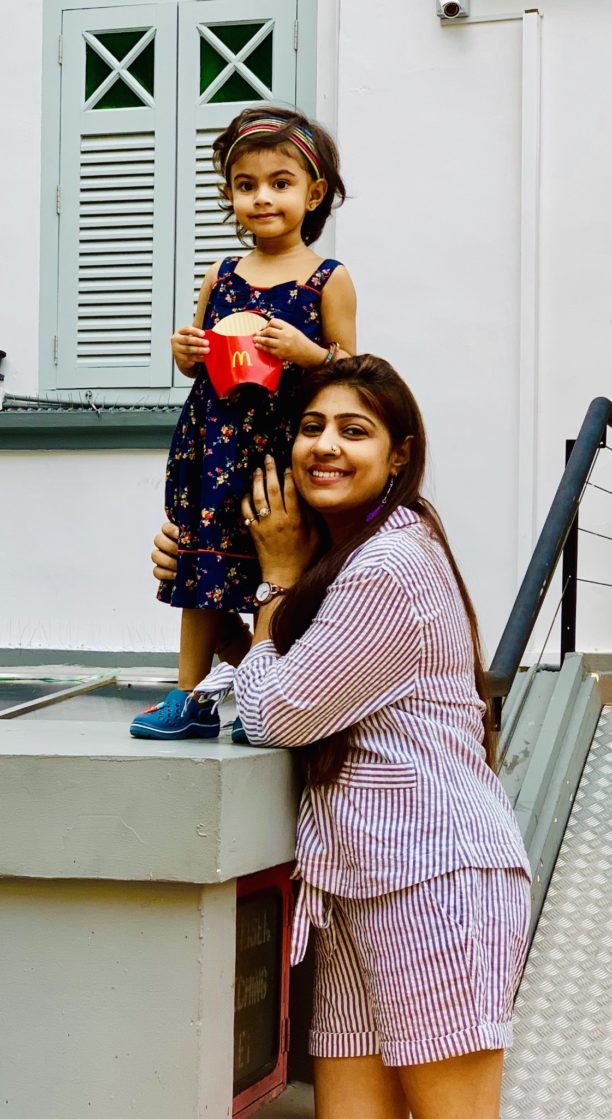 I saw that your cutie daughter Vedika will also be in the video – What was that experience like?
Yes, the video features our gorgeous 3-year-old daughter Vedika along with me…(what else could I ask for!!!) I couldn't have asked for a better co-star!! The song weaves the bond between mother and daughter and this was perfect. We shot in some great fun locations in Singapore so Vedika was enjoying her holiday as well as the shoot!!


What do you love about the song?
I love the fact that it showcases the beautiful relationship between a mother and the child. It breaks the clutter musically and lyrically from everything else that's around.


What were your thoughts when you first heard the final song?
I was overwhelmed. It was indeed surreal for me.


Are you nervous about the release?
Yes, I am!! I feel like a 12-year-old back in my school waiting for my exam/competition results.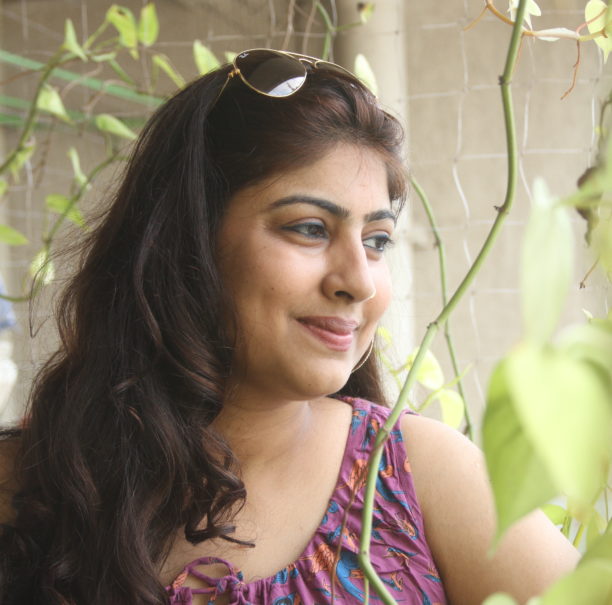 How does it feel to bring this song to the world?
Since it's my first, this is definitely a dream come true…a piece of my heart!! And I pray that the audience loves it as much as we do.


I would like to thank her for the fabulous answers – I cannot wait to hear and see this track. I know Arushi also has some other big projects in the pipeline but we will reveal that all later! 


'Naina' hits the airwaves on September 14th! Be sure to watch out for it, I have a feeling it is going to gorgeous, moving and heartfelt in music, lyrics and vocals!