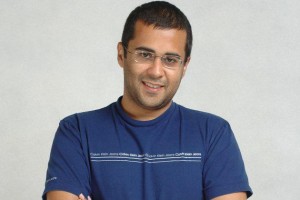 He is one of India's best-selling authors and many of his novels have been transformed into Bollywood blockbusters. From comedies like 3 Idiots (2009), to moving dramas like Kai Po Che (2013), as well as romantic tales like 2 States (2014), Chetan Bhagat has achieved a lot in the last few years and his talent just keeps on shining. His latest work has been co-writing the script to the upcoming action flick Kick starring Salman Khan. Chetan has co-written the script with the director of the film Sajid Nadiadwala. In a special Q&A prior to the film's release, Chetan spoke about writing for the film, as well as about his upcoming book. Enjoy!
Asked if he had fun writing the screenplay for Kick, Chetan answered, "I did enjoy it. It was fun, plus Salman Khan was in it, so it was an honour too. But it doesn't mean that I will become a screen writer. Occasionally, I might get into all this again, but I am more than happy with just being an author. I am comfortable with my books, giving motivational talks and writing columns. Those are the areas I want to dedicate my time to."
Chetan also explained what drove him to co-write the screenplay for Kick, one of them being that he has always wanted to work with Salman Khan. "I've known Salman from the time of Hello, the movie version of my novel "One Night at the Call Centre". But I never had a chance to work with him. So this was a perfect opportunity. Also, when I saw the original version of Kick, I loved it, but I felt like there is potential to take the content deeper. Sajid (director) is debuting with Kick too and he has a huge vision for it – hopefully I will be able to make it come true."
Asked what inspired him to become a writer, Chetan replied, "To be honest, I just wanted to do something different. I always liked writing and I thought it could be a great hobby. The only thing I did not know is that there would be so many people who would like my writing." Also asked if he thinks about his stories turning into a film whilst writing, Chetan responded, "No, not really. I can't think of it that way. Writing books was, is and will be my passion; it doesn't really matter if it will be made into a movie or not. Moreover, if my book is good, then the filmmakers would approach me anyway. I wouldn't have to do anything extra to get my books made into a movie."
Finally, Chetan spoke about his latest book and what it is about. "It will be coming out in October this year (2014). I don't want to spoil the book for you, so I won't say a lot about the plot, except that it is a rural Indian love story. It is slightly different from the other books I've written so far, but I hope that my readers will enjoy it."
Kick releases in cinemas this Friday!