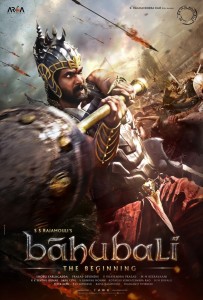 Let's get two things straight. Baahubali was never going to be a shrinking violet and S.S. Rajamouli is not the type to make a quickie film with a so-so storyline. So when you step into the theatre halls for Baahubali make sure you leave the hype at the door and open your mind to a new world on celluloid. A world where courage is your armour, vengeance is your sword, honour is the life you lay down and victory is a throne in the hearts of the people. Make no mistake this is a fantasy kingdom called Mahishmati. But look hard enough and you may just find the truth behind the fantasy.
In a forest far, far away and beneath the landscape, Empress Sivagami (Ramya Krishnan) stumbles her way to the base of a waterfall with a child in hand. A child she sacrifices her life for to keep alive. Raised by Sanga (Rohini), a doting childless woman and one of the villagers, Shiva (Prabhas) is no ordinary man. He climbs a mountain no mere mortal can conquer. Only the likes of Lord Shiva himself could take the reigns over this task. He is persistent, but falls short every time. Yet it is only when a wooden face mask literally falls to his feet, he finds the strength to overcome this obstacle. His task, solely to find out whom the girl behind the wooden mask is. Mission accomplished but this girl is no damsel. She is Avanthika (Tammannah Bhatia), a warrior in the rebel revolution set on the rescue of their queen – Devasena (Anushka Shetty). So while it's not the normal successful attempt of courting, Shiva makes his mark on Avanthika (literally) only to embark on a new path with more challenging obstacles.
Unbeknownst to him, Devasena is not just a queen that is captive. She was the queen but now khaas mujrim of unknown crime in the kingdom of Mahishmati ruled by Bhallaladeva (Rana Daggubati). Tormented every day and every night, Bhalladeva rules his kingdom with the same never-yielding nature to torment. It runs on the loyalty of warrior-servants like Kattappa (Sathyaraj) and the fear of his complacent people. His strength lies in his brute force, his treachery and his disabled father Bijjaladeva (Nasser). When there is no hope, there is no reason to fight the inevitable. The people of Mahishmati have resolved to their grim fate ever since the death of their saviour, their king Baahubali (Prabhas again). However, not every day will be the same. Not every day does a queen breathe a sigh of relief after waiting 25 years for a son to come to her rescue. Not every day does a ferocious ruler erect a statue for himself, only to be overshadowed by the force of his people's chant for their saviour.
You will have people compare the likes of Hercules, Prince of Persia, 300, Gladiator, Lord of The Rings and even Karan Arjun with the unwavering belief Devasena holds for the return of her son. But trust me when I say, there is very little originality in most films nowadays that circle Bollywood. As mentioned, look hard enough and you will find it. But the question in front of you isn't just about how original the script is. It is how was the story told? How far did the makers go to ensure we the audience are entertained with a fresh viewpoint and convince us to play along? Did the cast depict the life of a character without the audience thinking it was so-and-so actor in the role of such-and-such character? On these counts there's no doubt, minds will be blown.
So let's start with the cast. You will be farfetched to find a cast so appealing. Ramya Krishnan is regal in her commanding leadership. She plays authority with finesse and fierceness that you're almost inclined to follow her orders. Sathyaraj is the epitome of honour as Kattappa and is perfection on screen. Regardless of if it is on the battlefield or his devotion to a sword in memory of his leader. Anushka Shetty scares you with her intro but could possibly the 2nd best and most anticipated character for Part 2. She barely has enough screen time yet she wastes none of it to display the fighter bidding her time. Even as these characters display with maturity and stature their varying dynamics, it is Rana Daggubati and Prabhas that stand tall even if it is barely over their 6' plus frames. The two actors are in full form playing against and with each other that is akin to brothers in arms. Rana is such a pleasure to see as he flares up with ferocity and with a sinister charm bound to kill a few hearts in the audience. As Shiva, Prabhas is playful and full of wonder yet as Baahubali, he shines with dignity and level-headedness that of a leader.
A mention must be made for Nasser and Tamannah. Both actors have proven their acting chops before, Nasser more so. However, the actors both don't match up to their former performances. Nasser has played the conniving manthri in few films already so it was almost cake-walk. Tamannaah may have struck out in landing a power-packed role in Hindi films but the lovely lady has been in the South for about 10 years and has proven her mettle there. Baahubali does push her limits and she struggles to play the warrior in some places which is a shame. Having said this, neither of these characters would be considered bad. More they are the weaker links in an epic collaboration.
There is no distinct difference for the Hindi version of Baahubali. Simply put, Dharma Productions and AA Media present the film, Manoj Muntashir is on board for the lyrics/dialogue and M.M.Kreem's changes his choice of singers for a soundtrack to suit. A soundtrack that resonates in the halls as epically as the films does. So what makes this dubbed version of a film different from the rest? Well the answer lies in another question. What makes us push boundaries? Success? Maybe. Prestige? Possibly… For a director like S.S. Rajamouli so dedicated to his craft, the answer lies in his passion for cinema. One that he shares with the massive crew that worked in the film. This is collaborative effort and they all shared the dream of this 2 part epic. As much as that sounds like something a clichéd thank you speech, Baahubali is testimony to that effort and it's evident on screen. The VFX team itself was 2000 as declared by the director at the audio launch in Thirupathi. How can one yield a team so vast without missing out? Rajamouli is known for his take painstaking efforts to make sure he and his team get it right. Baahubali is no different. V.Vijayendra Prasad set the storyline, K.K. Senthilkumar behind the camera, Sabu Cyril for set design but it is Rajamouli at his creative best that grabs the audience of multiple languages to identify and sync with the final product. The suspense of each character poster, the teaser which shows 1000 men working on the construction of a set, the making videos of the cast as they were grilled physically for each character. This dedication is rare and the output is outstanding.
I read a tweet from a random viewer which said people are running out of superlatives to describe the grandeur that is Baahubali. I too am lost for words as the fan of fantasy screams and shouts for joy but has to wait patiently to see Baahubali: The Conclusion.