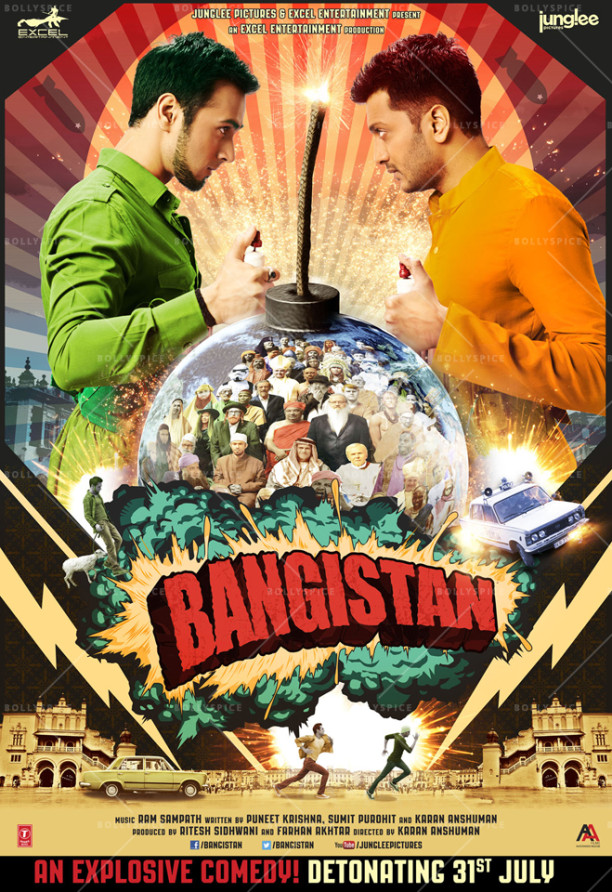 Bangistan, which will be releasing on July 31st, is a film set in a fictitious country. The concept of fictitious countries has often been featured in movies, but Bangistan seems to have gone a step further.
A website has been launched promoting major tourists sites in Bangistan along with a list of important people that exist in the world of Bangistan – worldofbangistan.com. The director, Karan Anshuman, has pulled out all the stops to make the country – Bangistan – seem as realistic as possible, even creating the country's own newspaper, "The Bangistan Times."
There are many spoofs in the film that will entertain the audience to no end. 'Star*ucks Coffee' makes an appearance. 'Keep Calm, I Am Not A Terrorist' T-shirts are noticeable. McDonalds is replaced with "FcDonalds-Killer Fast Food", and the iconic stature of Mcdonald is replaced with that of a bearded, gun-carrying mascot. These spoofs provide great laughs and the good natured jokes on pop culture are a visual treat.
The film's quirky plot has already garnered a lot of interest from audiences and critics alike. In North Bangistan, the ragtag group Al Kaam-Tamaam are planning to disrupt a global conference in Poland. Hafeez bin Ali (Riteish Deshmukh) plays the Muslim bomber who disguises himself as a Hindu. In South Bangistan, the rabble-rousing political group Maa ka Dal plans its own attack at the same location, with Praveen Chaturvedi (Pulkit Samrat) who disguises himself as a Muslim.