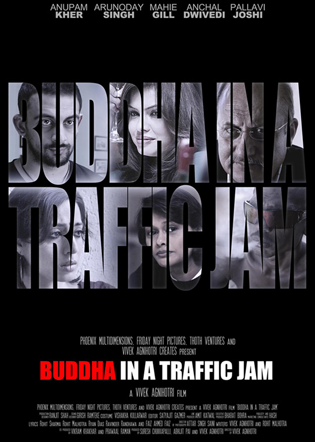 In a surprise move, the Barjatyas helped facilitate the distribution of the film that many distributors were afraid to touch because of its controversial subject.
The makers of Buddha in a Traffic Jam have found support from the most unexpected and unlikely quarters. Vivek Agnihotri's hard-hitting film, that was facing some difficulty finding distributors due to its politically-resonating theme, has been bailed out by the Barjatyas. But while the makers couldn't be happier, what's taken everyone by surprise is the Barjatyas decision to support the film, considering they are known for their social and family-oriented films which are a far cry from the turmoil of the political system and ideologies that Agnihotri's film represents.
Talking about this immense support from one of the respected film family, Agnihotri says, "If you really believe in something, sometimes God comes to help you in various forms. For me it came through Barjatyas."
The filmmaker reveals that though Buddha in a Traffic Jam is an award-winning film, they had no distributor on board. "We had no distributor, but I had announced the date. Some corporates were acting too pricey and some were talking as if doing a favour to a small film. Some backed out last minute due to the controversial nature of the film."
As for how the Barjatyas got involved, Agnihotri says that after the film's 'historical screening' at Jawaharlal Nehru University recently, he got a call from a friend who said that the Barjatya family was interested in seeing the film at their private studio at Rajshree. "Our film has extreme language and I was like 'hello, really'. When I screened the film, the entire family was present and I actually apologised to them for the extreme content of the film. But to my surprise, the family is so cinema-savvy and they loved the film," the filmmaker shares.
Adding further, he says, "Sooraj (Barjatya) told me how impactful the film is and how his wife was impacted by our teasers and that's when they decided to help the film. Sooraj said he will do whatever he can for the film and the next morning we got a call. They facilitated the distribution for us and in the next half hour I was sitting with one of the senior-most distribution experts, Mr Ashok Ahuja at Carnival's office. I am so happy to tie up with Carnival and I owe it to the Barjatya family for their support."
The film that revolves around the internal conflict of an aspiring student and the forever-on tug-of-war between the capitalistic and socialistic thought processes with the establishments is set to release on May 13th.
The cast of Buddha in a Traffic Jam includes Arunoday Singh, Mahie Gill, Anupam Kher, Pallavi Joshi and Anchal Dwivedi.
The film premiered at the 2014 Mumbai International Film Festival and has been showcased at other festivals too.