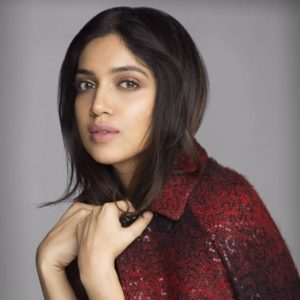 The first time she looked straight into the camera in her debut film Dum Laga Ke Haisha you knew that she was something special. We are talking about Bhumi Pednekar and her performance in that film was real and honest and oh so good. She, of course, won critical acclaim and the audience and fans could not wait to see what she would do next.
That next is another interesting and socially relevant film. Titled Toilet: Ek Prem Katha, the film that also stars Akshay Kumar, is a satirical, quirky, humorous, light-hearted love story set against the backdrop of a very important social issue.
Toilet: Ek Prem Katha is the real-life love story between Keshav from Nandgaon and Jaya from Barsana who fall in love despite barriers of society and tradition but their happy ending is challenged by the most unexpected hurdle, a toilet. This is the true story of millions of women in rural India who still today, walk a few kilometers away from their homes just to be able to relieve themselves, at break of dawn or fall of dusk and face the risk of rape/kidnapping. On the first day of their marriage, when Jaya learns there is no toilet, she leaves. Distraught and desperate, Keshav sets out on mission to win back his love- by battling against the age old traditions, mind-set and value system of his country.
We caught up with the actress for a very quick chat about the importance of a film like Toilet Ek Prem Katha, about working with Akshay and her hopes for the future.
After the huge success of your first film, I imagine scripts came rolling in so, how do you go about choosing which films you want to do?
I don't have a set formula. I think that the story and the character just needs to appeal to me. I know by my gut. At times you just know that – I can flourish in this character. I can bring a lot to this role. This role will consume me a lot. Of course the director matters a lot. So it is a bit of everything that combines into this decision. It's a lot of yeses and nos.
What were the yeses for this film?
Firstly, it was the chance to do a love story with a backbone of such a socially relevant message. That thought in itself was very exciting for me because it is very rare that you find a film that is non-preachy that is actually fun, entertaining, and primarily a love story that leaves you with a sense of change. With a sense of certain responsibility towards society. That part really excited me!
And a part from that my character, she is this young feisty girl; I think she represents the youth of India really well.
It is a very important film for my country.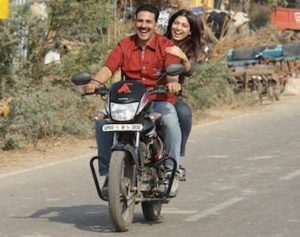 Tell us about how you become your characters.
For me, because I am born in Mumbai, I have been privileged to always have access to a toilet. I had to unlearn a lot of things to become this girl. I had to sort of disconnect from my urban roots, connect to a mindset that I have not been exposed too before. With research, with an outstanding director, with great writers that I was really blessed to have we really worked hard together and I cracked the role.
Written by the great Siddharth-Garima, this film has two sides to it, the romance and the social aspect, why do you think it is important to tell the story that way?
I think films are the largest and the most impactful visual media. People from the age of 4 to the age of 80 or more, they all watch movies and your film is only successful, when everybody in that age group 4-80 understand your movie. I think keeping it simple keeping it easy makes sense. People don't want to be told that this is what you should do. So through our characters they understand that this is what they need to do, we are not just telling them. Through our story, through our characters' actions you realize that Oh My God I have been so ignorant this long and there has to be a change. I think keeping people entertained is very important in our movies and Toilet: Ek Prem Katha does that really well.

Did you know or realize that this was still such a huge issue?
No, not until I got associated with the film because like I said I come from a family where I have always had access to a toilet, like very many other urban people. I remember going to school everyday in Bombay, and seeing people sitting in a line by the road doing their business, at that time I blamed the government, or said oh there is a lot poverty in my country. But the problem is a lot bigger than that. It actually is a mindset issue that we as a country suffer with and it's not just about open defecation, we are just stuck to very old and outdated rituals and beliefs that we as a country need to overcome. That is exactly what this film is talking about.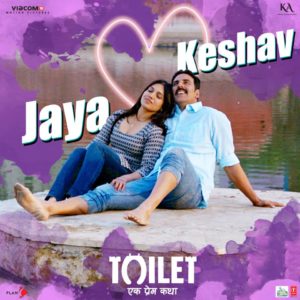 How excited and proud are you that you are a part of film like this that is going to take this message out to the people?
Extremely, extremely excited because I myself am a bit of a socially responsible citizen. I love my country. If I get a chance to bring even a small change through my work, I think I am extremely lucky.
Tell us about working with Akshay Kumar as a co-star.
Outstanding! It was amazing, He is so dedicated, he is so hard working, he is so punctual. He really believes in happiness and spreading happiness. He is such a hard working actor. He is brilliant. He is a great example to have for a newcomer like me.
Did you learn anything about acting from him while doing scenes?
Oh yes, I think learned a lot of things from him during this film. As I said he is extremely hard working and when you see someone like him who has already reached a certain level, has been around 25-26 years and has done over 130 films and he is still so dedicated and passionate and his energy levels are maybe more than yours, you get really inspired.
What about working with director Shree Narayan Singh?
He was great. He knows his medium. He knows his story. He is a very, very big reason that the film has shaped up the way it has. He is just amazing. He knows the world that he is shooting. He knows this milieu. He knows this problem. He is an extremely sincere, dedicated person. I really have the utmost respect for him.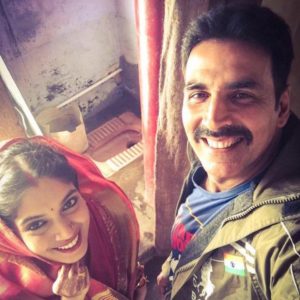 I saw on one of the behind the scenes that this happened and have always wondered, what do you do when you go completely blank on set?
You know it does happen, sometimes very often. (Laughs) Absolutely, you know, because there are so many factors and there is so much that goes into giving that one take. It is just not about you remembering your lines, it like a symphony and a synchronization of various energies that come together to get one good take so a lot of time you blank out and sometimes something technical goes wrong. It is a lot of things that go into that one take you see on screen.
What would you say about your experience as an actress so far and what do you hope for in the future?
You know I was 12 when I told my mum that this is something I am going to do. I am glad that I have been able to do it. I think it has been beautiful. I am really thankful to the fraternity, to the audiences for accepting me and for giving me opportunities to play these beautiful girls and impactful characters. I really hope I do this for the rest of my life.
Toilet: Ek Prem Katha is in cinemas on August 11th.