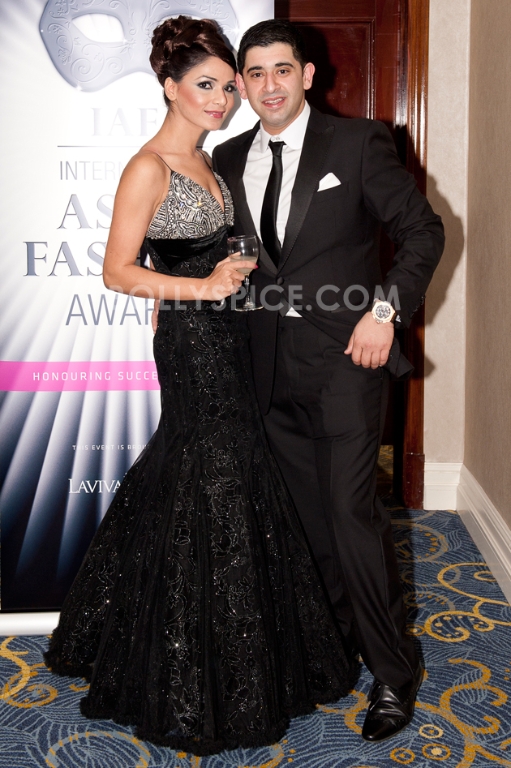 The International Asian Fashion Awards are all set to take place on the 10th November 2012 in London and with a judging panel that includes Bollywood designer Manish Malhotra, photographer Paul Farnham, Pakistani designer Hassan Sheheryar Yasin (HSY), makeup artist Lubna Rafiq and Fashion Editor of GQ India Antara Motiwala, it is set to be a spectacular affair.
Del Ghosal and Neeru Bhandari are the co-founders of the IAFA and Bollyspice.com had to chance to speak to Neeru Bhandari about setting up the IAFA, getting Manish Malhotra on board and Asian fashion.
What inspired you to set up the IAFA?
IAFA for me is way to give something back to the industry. As you know I am a model and during my work I felt Asian fashion designers had increasingly not been recognised for the hard work and commitment to fashion. Alongside my business partner Mr Del Ghosal, we felt there was gap in the industry where no one was celebrating and honouring the fashion community across Europe. The idea of the IAFA was born.
Last year you had Indian designer Neeta Lulla on board as a judge this year you have Manish Malhotra! How did this come about?
We wanted young designers to receive recognition from the best in the industry. The couture designers at the top of their game have been through the struggle and carved out immense careers for themselves and they would recognise what new designers are going through. People like Neeta and Manish are recognised worldwide and they are successful entrepreneurs too. We approached Neeta last year she loved the Idea. Same with Manish he wants to encourage new designers and give recognition to establish designers helping to give them identity worldwide. Our judge again this year is HSY who shares the same ideas and sentiments and who came on board this year right away.
You have also recently announced that famed photographer Paul Farnham and fashion editor of GQ India, Antara Motiwala as judges. How did this come about?
Well we believe the experience Paul and Antara have, will help us to select the right designers and make up artist to get recognition. They both have an eye for detail and this is seen in the incredible clients and work they produce. They know what is good, what's new and how it should be presented. We are very happy and privileged to have them on board.
Can you tell us more about the IAFA Alumni Initiative that has recently launched?
The IAFA alumni is a new initiative that has been set up by us to give back to the new generation that are keen to get involved in the fashion industry. The alumni is made up of past winners and key supporter of the IAFA that provide an insight, will hold workshops and give real industry knowledge to the next generation. We wanted to give something back in the way of solidifying that the IAFA's are more than just the ceremony once a year – we are interested in nurturing talent and innovation.
What do you feel about the British Asian fashion Industry? Do you think Asian fashion should be recognised more at fashion weeks such as LFW?
Asian fashion in Britain has a long way to go. I want to see Asian designers competing against mainstream designers and presenting fashion that this generation of consumers will understand. I have a dream that one-day Asian designer labels will as big as Gucci, Prada etc and they can be accessible for buyers worldwide. Right now Pakistan and India are excelling in what they offer their South Asian customers with regard to catwalk inspired and cutting edge design. We have immense talent in the UK too.
Do you see an upswing of Indian influence in fashion recently?
I do and it's evident the amount of influence South Asian fashion has on big designers like Gucci, Burberry, Chanel with their Bombay inspired collection. Jean Paul Gaultier just did a show with authentic Indian turbans. The recent edition of Vogue India showed how Gucci and Burberry have produced outfits using Indian hand made material and work that was influenced by Indian heritage
Which designers do you feel best represent Indian fashion?
So many do – it's unfair of me to suggest just a few names.
What do you feel Indian designers need to do to get more worldwide recognition, on the same scale as designers such as Roberto Cavalli and Versace, for example?
I think some Indian designers are investing but still finding it hard to break the glass ceiling for brand exposure around the world. I hope to see upcoming designers like Gaurav Gupta and Sabyasaachi to achieve that.
Asian designers tend to be associated with more bridal couture rather than mainstream western clothing, why do you think this is?
Asian people getting married is a big deal and the wedding industry itself is a multi million pound one. We have channeled this niche and are champions at creating the most elegant, beautiful and handcraft inspired designs. No one can beat South Asian wedding couture. We have been blessed with such rich traditions and that's why we are more famous for bridal wear.
What to you is fashion?
Fashion for me is the signature you wear to show people your personality. It's a reflection of who you are and how you feel.
What else have you got coming up?
There are few big projects we are hoping to bring in near future, with the time we will reveal.