Alia Bhatt and Arjun Kapoor recently visited London to share their thoughts and experiences on the highly anticipated 2 States– a film directed by Abhishek Varman and based on bestselling author Chetan Bhagat's novel of the same name.
2 States explores the journey of Krish Malhotra (Arjun Kapoor) and Ananya Swaminathan (Alia Bhatt). The two fall in love. They decide to get married. However their different cultures, Krish as Punjabi and Ananya as Tamil, brews trouble. Will their parents not only approve but accept the couple?
BollySpice caught up with Aliya Bhatt and Arjun Kapur for an exclusive interview- an interview with lots of giggles, charm and cheekiness! We speak on 2 States, the favourite and annoying aspects of their characters, bear hugs, girl power, chat up lines, love advice and more!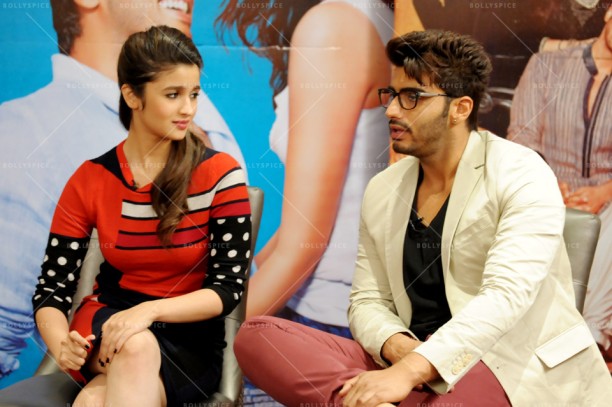 As the title of your film is 2 States, what would you say are your 2 favourite and 2 annoying aspects of your character?
Alia Bhatt: That's interesting. My two favourite parts of my character I would say is that she is a very strong woman internally-
Girl power!
Alia: Yes girl power! And she's very spunky and fiery. The 2 most annoying things I'd say is that she's very curious – she always wants to know what's happening: this, that, this… And other than that she always wants to be right.
Girls are always right! There we go!
Alia: Exactly! Girls are always right.
Arjun Kapoor: Two things that I like about him is that he's resilient- emotionally resilient. And that he has a sense of humour. He's sarcastic, but has a sense of humour. Two things I hate about him is that he's silent. And he keeps things within himself I guess. He doesn't share enough. Also- a good thing about him is that he's very understanding about everyone's feelings-
Alia: She said 2 good things!
Arjun: He's a very good guy and so 3 good things… it's allowed. My character! My lines! My decision! My choice!
Alia: He's also very cranky apparently.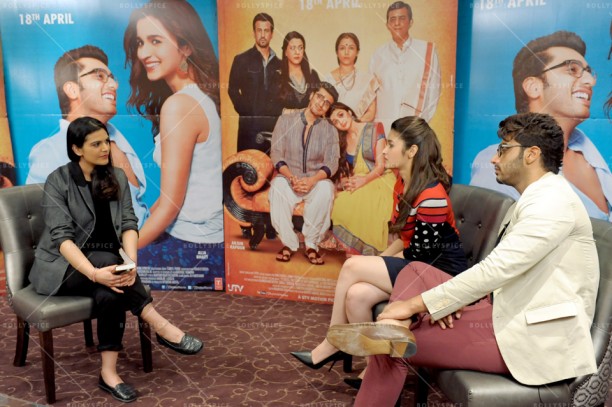 Well, watching the trailer, I've noticed that your character, Krish Malhotra is very cheeky.
Arjun: Cheeky?!
Seems a bit stand offish sometimes… But also, very charming! So what's your best chat up line that you've used in real life and it's worked?
Arjun: I don't have this ability to pick up women.
What's your worst chat up line? Come on we all have those no?…
Arjun: I am very shy. I did not discover this facet of my personality of going up to women and starting a conversation just like that. I've never lived abroad enough to do that. I was fat when I used to travel all the time. I had zero self confidence and self esteem. And I think I need to be comfortable around somebody to crack those lines and maybe those fluid flirting things that happen. I need to spend some time with that person. It doesn't just happen like that.
You became all the more charming just then!
Arjun: Thank you! See it works!
Ms Bhatt, what has been the most challenging aspect of stepping into the shoes of a Tamil character?-
Arjun: She had to work with me and that must have been so difficult for her to prepare you know!
Alia: For me! … It was- I had to bear Arjun Kapur every day.
Arjun: She had to bear hug me every day. That was exciting for me.
Alia: Speaking on the character- Tamil was hard. But I think what was harder for me was that she's very energetic but not in a loud way. It's just in her eyes you know. She's active. And she has this energy that doesn't have to come by speaking fast, talking loudly or something like that. So that was something tricky.
Amazing. So she's got this spark…
Alia: It's a spark- it's more an internal energy. ..She's just genuinely a spunky person.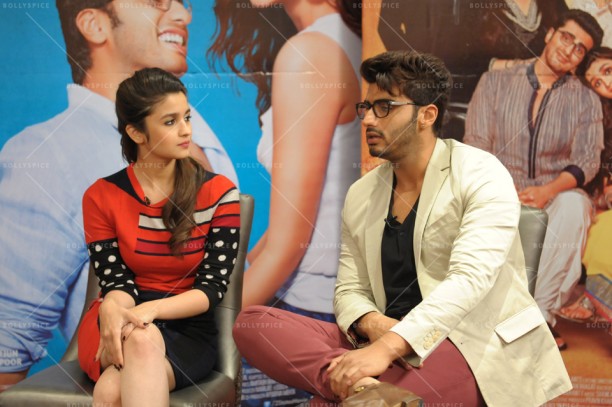 So, 2 States is about a couple gaining parental approval for marriage. The film seems a light hearted, feel good romantic film with a serious message. And love, love is complex –
Alia: Not a direct message-
Arjun: It's not like a spoon feeding , social, economic satire or something that they are trying to get a point across to people. This happens. This exists. It's in society. It's modern day. And these are two people who you can find anywhere in the country and these families you can find anywhere in the country.
Yes absolutely. It's global, it's universal.
Arjun: Yeah- any Indian living worldwide adheres to these philosophies where marriage is concerned it's a very important step that young people take in their lives and they want consent. So 2 States just deals with the journey of getting married. Sometimes it's easy. Sometimes it's not.
What's your one piece of advice to all those couples out there who have fallen in love but their partner is not necessarily a shaadi.com criteria check list match. What would you say to them?
Arjun: I don't think they need advice if they have a partner that they love. They don't need advice.
Alia: I agree.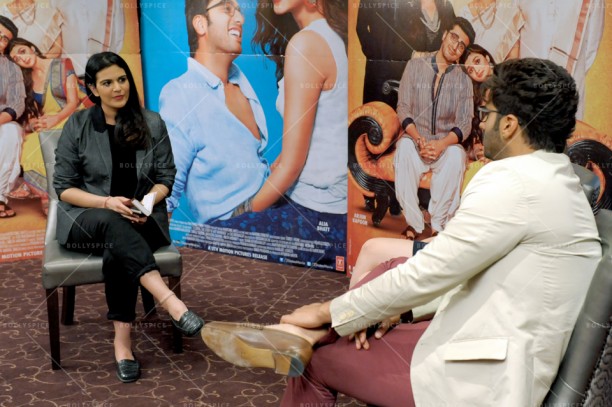 (Photographer: Hayat Khan)
Watch this space we will have the video of the interview coming up soon!