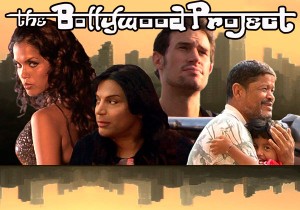 When we think of Bollywood and its stars, we tend to think of the glitz, glamour, fame, and fortune. And with the lavish sets, elegant costumes, and fantastical song and dance numbers that Bollywood films treat us to, who can blame us? However, independent filmmakers Ruchika Muchhala and Adam Dow have taken on the daunting task of going beyond the glimmering surface of Bollywood to explore its reality in their forthcoming documentary, The Bollywood Project. Spending over four long years in Mumbai, the filmmaking duo sought to create a documentary that would expose the struggles that many face working in that thriving film industry.
The film delves into the stories of four industry artists: Harry, an Australian actor who happens upon a career in Bollywood; Premji, a union leader who labors for workers' rights in the industry; Ojas, a makeup artist responsible for the sultry looks of many Bollywood divas; and Pooja, a backup dancer who dreams of becoming a star. But how did Muchhala and Dow even conceive of the project?
Muchhala and Dow did not begin their filmmaking adventure with too much professional or personal experience with the Hindi film industry. Being newcomers to the world of Bollywood, the two filmmakers perhaps did not initially anticipate the depth of their venture. Talking exclusively with BollySpice, Mucchala told us, "The topic [Bollywood] was so vague and as we entered sets and met people, we were inspired by the stories of people who have worked in the industry, seen it grow, and grown into themselves in the process…The whole process has been a journey for us as we'd meet one person who would open the doors to another and so on, until we met our characters-…all who have unique stories who made us want to stick around."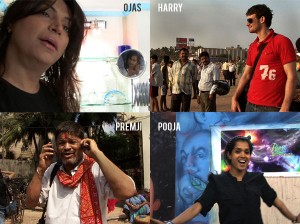 The project originally started off as a web-series, which eventually developed into a longer documentary, currently in its post-production stages. Muchhala and Dow worked on an extremely limited budget, opting out of using expensive camera and audio equipment (they used a Sony Z1 and shot mostly on HDV). "In a way, this actually worked towards our favor because without the invasion of fancy camera and audio equipment, and because our characters [were] familiar with us, it was easier to get them to open up. Of course, after four years of being a part of their lives, things just become easier in terms of filming and being able to catch their everyday realities on the sly," Muchhala said.
In attempting to examine some more controversial themes that exist behind the scenes in Bollywood, such as sexuality and union issues, being foreigners in the industry also worked to the filmmakers' advantage. "Being foreigners to India, it was easier to jump in and have people open up and talk with us about their lives and the complexities of class, economics, gender and sexuality they face working in the film industry in India," Muchhala explained.
As bold and unexamined as some of these themes may be in Bollywood, the filmmakers were careful to handle these issues in a sensitive and objective manner. "I feel that we have been really careful to show what is and not make any judgments on the characters…All we have done as filmmakers is try and give you an inside glimpse of this world behind-the-scenes and the inner lives of four artists who are trying to, or have already made a place for themselves in the industry," commented Mucchala.
The Bollywood Project will give audiences real insight into the lives of the underexplored industry workers in Mumbai. So when will audiences get a real glimpse into the lives of Harry, Premji, Ojas, and Pooja? If all goes as planned, (Dow and Muchhala are currently looking for a co-producer and applying for grants to finishing funds) audiences may get to see the finished 70 minute product at international festivals next year. "These stories are not just about artists behind-the-scenes in Bollywood, but about the human stories of dreaming big and making or breaking it in massive industry—which is often disregarded as a 'kitschy' style of films rather than a giant movie-making industry which is a huge part of the Indian national identity," said Muchhala.
Visit bollywoodproject.net for more information.
The Bollywood Project Teaser from Adam Dow on Vimeo.