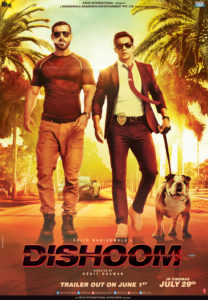 Director Rohit Dhawan can breathe easy. His decision to take an almost five year sabbatical after Desi Boyz and then return with Dishoom has paid off. The John Abraham, Varun Dhawan and Jacqueline Fernandez starrer has managed to do well at the Box Office with 54 crore* coming in after the first week. The opening day was decent to good [11.05 crore], not extraordinary, and led many to wonder how the overall collections would look like. However, good pick up over the weekend and then stable collections over the weekdays meant that the film was on a right path all over again. This resulted in a good sum.
Rohit's debut directorial release Desi Boyz had netted 46 crore at the Box Office. With Dishoom bringing in 54 crore*, there is a 100 crore total that has come between the two films, something that should please Rohit. The point to be considered here is that the commercial directors need a lot more credit for the work that they do. Though their films may not turn out to be big hits from the commerce perspective, the fact remains – like in Rohit's case – that they still manage to attract a large chunk of audience who are willing to buy tickets worth 100 crore (and still counting).
Now compare it with some of the pseudo-intellectual filmmakers who may have directed 4-5-6 films by now and still the sum total of their films have not managed to find attention of a similar quantum of audience. However, media has a tendency to hail such filmmakers to the sky and term them as Gen X. The trouble is that many of these directors have been around for a decade and while the Gen X could well have turned into a Gen Y by now, the audience footfalls are still not happening, despite all the media coverage at the highest levels.
Point to ponder!
*Final numbers awaited
Note: All collections as per production and distribution sources