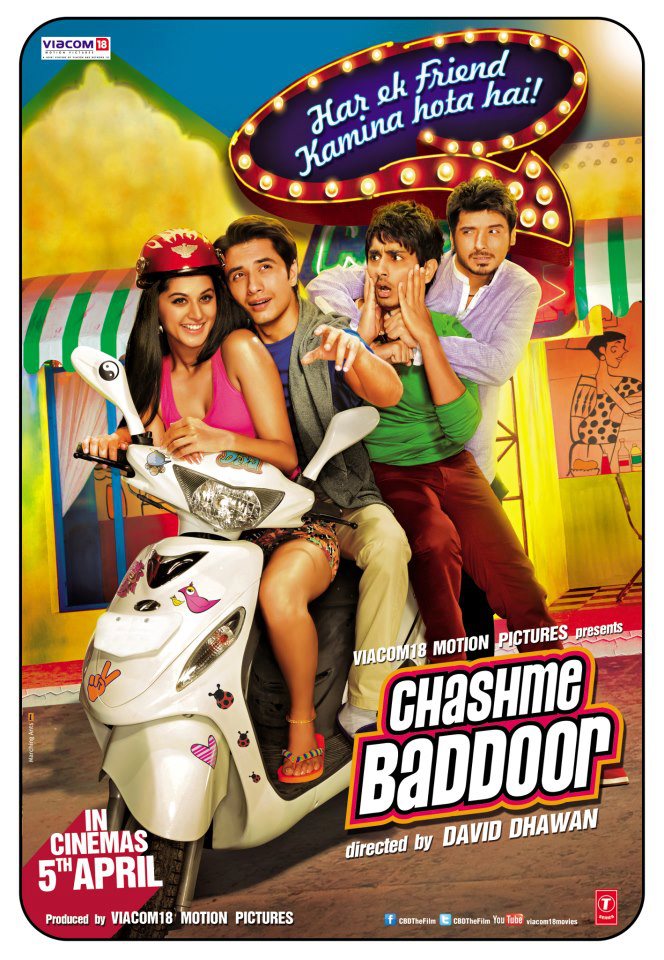 David Dhawan's remake of Chashme Baddoor is supposed to be a laugh out loud comedy. Though the film is far from perfect, it does deliver as promised and there are many moments that you will find amusing to watch. Starring Ali Zafar, Taapsee Pannu, Siddharth Narayan and Divyendu Sharma in key roles, Chashme Baddoor is based on a story of three friends in Goa who are in the prime of their lives. Two of them, Jai (Narayan) and Omi (Sharma), attempt to woo Seema (Pannu), who is the new girl in the neighbourhood. Failing miserably, their friend Sid (Zafar) ends up bumping into Seema and falling in love with her, to which she also reciprocates. Jai and Omi attempt to tear Sid and Seema away from each other which result in a number of intense, as well as comical moments.
Though Sai Paranjpye's original version of the film is not necessarily an institutional classic, there were perhaps many within the Indian media who were frustrated at the news of another Hindi remake being produced. Dhawan does not manage to churn out a unique comedy, mainly due to the fact that large parts of the film are very predictable. Hence, this as well as the many other comedy films that have emerged from Bollywood over the last few decades is essentially a no-brainer. However, Chashme Baddoor does manage to make you laugh in a number of scenes, which you will no doubt appreciate. It has been well handled by Dhawan, though many will agree that his works from the 1990s are far better in terms of direction and production quality.
Ali Zafar offers an entertaining, though at times shaky, performance as the male protagonist. His presence in the film is the key selling point of Chashme Baddoor, especially after having starred Mere Brother Ki Dulhan (2011), which was one of the top grossers of 2011. Zafar could have honed his performance more in order to leave a lasting effect on the audiences. However, it is certainly not a bad performance in any way, it just would have been even better had he added a little more spice to his character. Siddharth Narayan and Divyendu Sharma provide hilarious performances in their supporting roles. You will certainly find them enjoyable to watch from beginning to end. Taapsee Pannu does not make an iconic debut, yet she manages to carry herself well in the film. It is a performance which can be condoned, though she will have to up her game in her next project in order to succeed in the industry. Rishi Kapoor, Anupam Kher and Lilette Dubey are also thoroughly entertaining to watch in their senior characters. Without them, the film would have lost some of its magic and thus; they contribute significantly in making Chashme Baddoor a fun film to watch.
The music to the film by Sajid-Wajid is nothing phenomenal, yet it does have some catchy tunes that will grow on you. These include songs like 'Dhichkyaoon Doom Doom' and 'Har Ek Friend Kamina Hota Hai.' However, surely many will agree that Sajid-Wajid have created greater magic in their previous albums compared to what they offer in Chashme Baddoor.
Overall, Chashme Baddoor does provide crowd-pleasing entertainment which has some originality to it. Having said this, David Dhawan only manages to satisfy your hunger for comedy to a certain extent with this film. Had Chashme Baddoor provided consistent levels of humour, then perhaps it would have been more electrifying to watch. However, the entire cast and crew have managed to put in a respectable amount of effort into this film which makes it worthy of a watch!