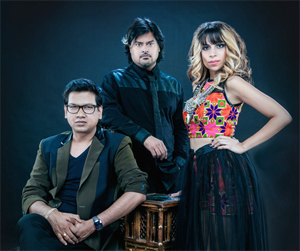 MixRadio is excited to announce the exclusive release of all-star band Ananthaal's first album on the service. Fans of the boundary pushing band will be able to listen to the self titled album on MixRadio, the world's simplest, most personal and most fun music streaming service.
'Ananthaal' is the brand new, star studded musical collaboration by award winning composer and music producer Clinton Cerejo. Featuring two incredible singers, Vijayprakash and Bianca Gomes who have unique vocal styles and sonic identities, 'Ananthaal' seamlessly juxtaposes strong Indian motifs with Western harmonic concepts and neatly packaged strong musical hooks that never leave your head.
Clinton Cerejo said: "I'm extremely excited to announce our exclusive partnership with MixRadio for the launch of Ananthaal's debut album.
"For the first three days, our album will be available to live stream on your mobile devices only through MixRadio. We love the simplicity and ease of use the app has and it is amazing that our album will be available to the numerous MixRadio listeners on this incredible platform. "
Mandar Thakur, COO of Times Music, said: "Times Music is extremely proud to be associated with MixRadio and present the amazingly talented brand ANANTHAAL from Clinton Cerejo.
"The partnership with MixRadio is a unique opportunity for fans to listen to ANANTHAAL across a number of channels, starting with streaming and later, live gigs and events. The partnership is a testament to MixRadio's commitment to promote great music that resonates with their listeners."
MixRadio is the world's easiest and most personalized music streaming service. With a catalogue of over 35 million songs including an extensive local catalogue of over 13 million songs, MixRadio delivers an unparalleled listening experience. The service provides a personalised mix of music at the touch of a single button, as well as thousands of curated mixes, all available for free.
MixRadio is also proud to be sponsoring a series of gigs to promote the new album, which kicked off on October 1st in Pune and will then take place in Delhi, Mumbai and Bangalore. For exclusive opportunities to win tickets to the gig, visit http://mixrad.li/AnanthaalMixRadio
We listened and we loved so be sure to check it out. To listen to the album now, go to http://mixrad.li/Ananthaal. To find out more about MixRadio visit www.mixradio.com.