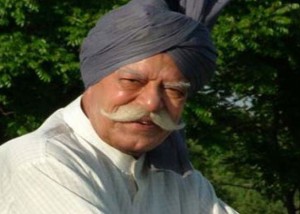 The original superhero of Bollywood, wrestler-turned-actor Dara Singh passed away this morning at the age of 83.
Singh was fighting for his life for the past week after being taken to the hospital on Saturday when he suffered a cardiac arrest. Doctors were doing everything in their power to help him, but his condition worsened.
On Wednesday Dr. Ram Narain told the press that he had "less chance of recovery" due to serious damage to his brain. The actor was shifted back home on Wednesday evening so he could be with them for one last time.
"As Dara Singh's condition was deteriorating fast, respecting wishes of his family, he has been shifted home with ventilator and medicines. A nurse and a doctor are at his home. There are no medicines that will reverse the brain damage… only if a miracle happens. He might even slip into coma," said Dr Ram Narain, COO, Kokilaben hospital.
This morning he brought the news of Dara Singh's death. "He passed away at 7.30 AM peacefully," Dr Ram Narain.
Dara Singh
Dara Singh was in a village in Amritsar. The young manh was encouraged to take up wrestling from a young age due to his imposing physique and trained in 'pehelwani', an Indian style of wrestling.
He became a star wrestler by making his way from local tournaments to the international arena. Singh took on wrestlers like Lou Thesz, The Oriental Champion King King, George Gordienko and Stanislaus Zbyszko, and had over 500 professional fights to his credit – all undefeated.
He won the Professional Indian Wrestling Champion in 1953, took the Commonwealth champion in 1959 and became World Champion in 1968. He retired from wrestling in 1983.
But while he was wrestling, he was also starting his acting career in Hindi and Punjabi Cinema.
In his five decade long career he was seen in over 140 films including classics like Anand and Mera Naam Joker. Because of his physical appearance he was cast in films like Tarzan, Faulad, Sher-e-Watan and King Kong, which earned him the name of Bollywood's Action King. He was also often cast opposite actress Mumtaz in several movies including Aandhi Aur Toofan, Boxer and Raaka.
But the man is most known for his memorable portrayal of the Hindu God Hanuman in the television serial Ramayan by Ramanand Sagar.
Besides acting, Singh was also working as a writer, director and producer. In 1978, he launched Dara Studio, which had all facilities for filmmaking.
In the last decade he was seen in the Bollywood films Kal Ho Naa Ho, Shararat and Jab We Met.
Dara Singh leaves behind his wife, six children – three sons and three daughters.
Our thoughts and prayers go out to his family. May he rest in peace.
Bollywood reacts to the loss of their very own superhero
Amitabh Bachchan:
Dara Singhji passed away this morning. A great Indian and one of the finest humans.. An entire era of his celebrated presence gone!
Shah Rukh Khan:
Wrestlers are made of sweat, determination and a hard to find alloy called guts.. most apt for Dara Singhji our very own Superman. Will miss you sir
Karan Johar:
RIP DARA SINGH.. have the most heartfelt memories..
Anupam Kher:
Dara Singh ji was LARGER than life but never made anyone feel dwarfed with his presence. The strongest and the humblest. A Hero All The Way.
Bipasha Basu:
RIP Dara Singh Ji!
Abhishek Bachchan:
Dara ji passes away. Had the honour of working with him in Shararat. The most gentle and kind man. Really looked up to him. Will miss him. He was always so loving and gave the best hugs. Remember meeting him for the 1st time while dad was shooting Mard. Was convinced that he truly was the only human who could not be pulled apart by even airplanes.
Vishal Dadlani:
Dara Singh Saab, RIP. Your name came to mean strength. Anyone attempting a feat of strength will forever be asked "Oy, Dara Singh hai kya?"
Shahid Kapoor:
RIP Dara singh ji.. Was a privilege to have know him and worked with him
Kunal Kohli:
Dara Singh Personified Strength and Goodness in abundance. Our first super hero. Dara Singh.
Manoj Bajpayee:
The symbol of physical strength Dara Singh ji is no more with us now. May god bless his soul with peace!
Madhur Bhandarkar:
RIP Rustam-e-Hind. The strong man of India will be miss dearly.
Mahesh Bhatt:
Dara Singh passes away! Memories of this warm 'pehlwan' turned actor flicker in my memory. When childhood heroes die the world looks desolate.
Ayushmann Khurrana:
My first internship was at Dara studios Mohali for Zee Punjabi during my Panjab University days. The man was full of life. RIP Dara Singh ji
Kabir Bedi:
RIP DARA SINGH, Rustam-e-Hind, India's iconic wrestler, pride of Punjab, loved by all generations. We'll miss you deeply.
Neha Dhupia:
RIP Dara Singh Ji.. Our asli He-man! My condolences to the family.
Farah Khan:
The gentlest giant is no more. Dara uncle the 1st ever action hero of our country, rest in peace.
Arshad Warsi:
Another great soul has left us. Dara Singh, a humble man who was made of steel and had a heart of gold… RIP Sir…
Rajat Kapoor:
RIP dara singh saheb – now hopefully we'll have a retrospective of his films..
Raj Kundra:
RIP Dara Singh ji. He was the original action man! Iconic, an idol to all Indian wrestlers and fighters. He still remains an inspiration!
Sophie Choudry:
RIP Dara Singh ji. Original Macho man, Asli Punjabi and a hero to many through the years. Yet another legend joins the stars in the skies..
Neil Nitin Mukesh:
Just heard about Dara Singh ji. RIP. Great man he was.
Aftab Shivdasani
A Legend passes.. Rest in Peace Shri Dara Singh ji. My deepest condolences to his son Vindoo and family. Prayers.
Madhuri Dixit-Nene:
A legend passes away, Dara Singh. Our condolences to his family. We will all miss him.