From Om Shanti Om, to Cocktail, Tamasha, Yeh Jawaani Hai Deewani, Goliyon Ki Raasleela Ram-Leela, Piku and Bajirao Mastani to name a few, Deepika Padukone has established herself as one of the finest actresses in Hindi films. With each new role she creates, audiences and critics love her and they can't wait to see what she will bring to the big screen next.
Always up for a challenge and a chance to play something new, the actress is making her debut in Hollywood with her role in xXx: Return of Xander Cage. This full on thrilling action film, directed by DJ Caruso, stars Vin Diesel, Ruby Rose, Donny Yen, Nina Dobrev, Toni Collette and Samuel Jackson releases worldwide today!
I was very lucky to get the chance to have a quick chat with Deepika about her work on the film, what her fans support means to her and much more! Check it out.
When we talked before you said that you decide on what roles you take based on instinct. So what was it about this role and this film that made you say I want to be a part of this?
For me, it was the character itself to begin with. I was reading the script and I said, 'Wow, this is a really strong character'. Serena is so instrumental in everything that happens in this movie. She is smart and she is intelligent. She is very important in sort of driving this whole thing forward. That was important for me. It is important for me to do films where there is something for me to do or play characters that I identify with or not identify with, characters that have a lasting impression – Triple X gave me that. It also came into my life at a time when I was looking at a different kind of challenge.
Your character Serena is very cool, how did you have to prepare to play her, especially the action scenes?
You know honestly for me the physicality is something that came to me naturally because I am an athlete. Being physically fit is something that is part of my lifestyle. It is something that I look forward to everyday. I just had to tweak it a little bit as far as this character was concerned.
A new skill set that I had to learn for Serena specifically was the use of guns and the other weapons that I use in the film. I had to be able to perform and run and jump and squat and do all of that and at the same time make it look very agile and make it look like I have been doing it for years. (Laughs) So the use of weapons and guns is something I had to really work on.
Were you sore at the end of the day after doing all this?
Yes! It would take me a week sometimes to recover from one action scene.
It seems as if the entire cast got on really well, what would you say about your shooting experience with them and now promoting the film?
Yes we do. I think we are all really excited about promotion at two levels, I think it gives us, the team, the opportunity to come back together and to see each other again because we had such an amazing time making the film. It is such a special movie for all of us. You know the creative process was so exciting, the experience we had was so exciting, and we want to share that with the world and it is that time now.
It was amazing that the film got a premiere and released in India first, what was that experience like to take the film there?
It was so special! I cannot even tell you how magical those two days were. It was quick and it was hectic and we had so much going on. I am so happy that the studio made that possible because India is such an important market, but also because everyone has been so excited about this journey for me. Right from the beginning, ever since I first said I was doing this movie, everyone has been so enthusiastic and supportive. It was the natural thing to do to take this to back to where I come from and share this experience with everyone. Of course, it has seen a limited release in India this week, and it going to see a worldwide release on the 19th and the 20th. But just the fact that India got to see it first makes it very, very special.
As we talked about your fans have wholeheartedly embraced your doing this film – how does that feel?
You know, even if they had the slightest doubt I don't think that I would be able to do this. The fact that they had so much faith in my choice and the fact that they were so supportive, them knowing that if I am doing something I must be doing something right, and knowing that my fans have their faith in me really gave me the courage and the strength to go out there and do what I do. Not just with this movie but every single day.
Are you nervous about the film?
No, because they have embraced it and they love it already. So no, I am not nervous at all I am actually very, very excited. I am excited for a lot more people to go and watch it when it releases this Friday. It is exciting!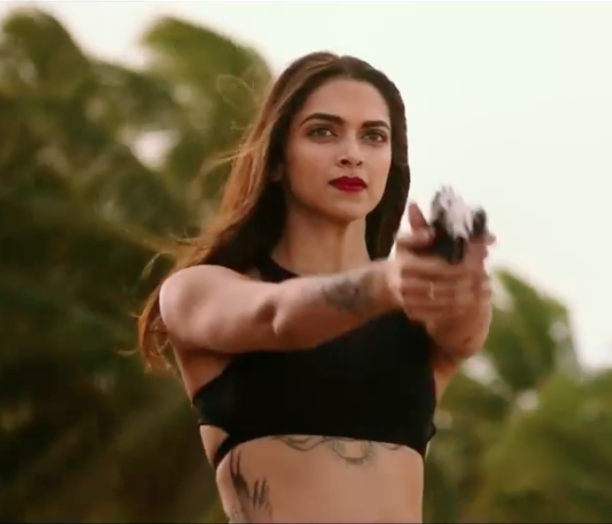 You earlier told me that you always learn something with each new role. Has this experienced changed you as an actress?
You know one of the questions I am asked every day is how is Bollywood different than Hollywood? Today I can say it is exactly the same. I think that is one of my biggest learning experiences – that eventually this has made me realize that we are all in this together as creative people. We all just want to make amazing movies that can impact and influence people lives and entertain people. And people who make these movies are in it with the same kind of love and passion and enthusiasm – so it is literally actually exactly the same!
You are working on Padmavati now; can you tell us about that?
What I can tell is that again it is a real story. Padmavati is a historic film and again in the historic world Padmavati is a very relatable person in terms of her spirit. She is someone who is very clear about what is right and wrong. She is a very, very powerful woman. I don't think at this point I can give you much about the story but I can tell you that it is going to be special.
Looking back over your career what are your thoughts?
That it hasn't been easy, but it has also been a great learning experience for me. I'm not a trained actor; I never went to acting school. Nobody from my family comes from this industry where if I had any doubts or questions I could fall back on that. So everything that I have learned and the little bit that I have achieved is through trial and error. I have had good days and I have had bad days, but eventually it is all of those right decisions and all of it put together – that taught me so much. Nothing makes me happier than being in front of a camera and being on a film set.
It is always amazing to talk with Deepika and I look forward to seeing her in the film and in her projects in the future!
Check out the trailer to get a sneak peek into her role and the exciting action coming to a theater near you.

Be sure to go watch xXx: Return of Xander Cage in theaters today January 19th!