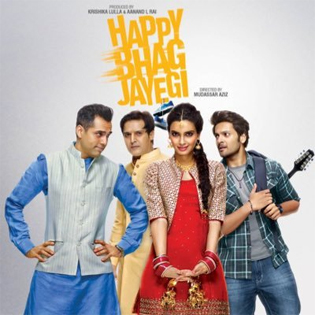 Initially, Happy Bhag Jayegi looked like another run-of-the-mill Bollywood movie about a runaway bride. Diana Penty's second movie had been the talk of town ever since the trailer was out for everyone to see. Garnering a steady base of fans over time Happy Bhag Jayegi has been a film to watch out for.
The film has done justice to people's expectations and the pre-buzz around the movie. The light hearted run-com is a fun watch and also defies a lot of Bollywood clichés.
The movie is set in an India-Pakistan backdrop, but does not have the overdose of patriotism or high voltage drama and action we generally relate to such films. Instead, Happy Bhag Jayegi explores the humane side of the two countries and highlights how similar both the cultures are. Not only does it show the relations between India – Pakistan in a different light but also gives us a different perspective on the treatment of women from our neighbouring country. Momal Sheikh plays the strong independent woman who takes charge of her life and actions. Her character defies all stereotypes we have about Pakistani women being suppressed, confined to home.
Happy Bhag Jayegi is an example of clean comedy with no sexual innuendos or offensive jokes about people. The movie puts a smile on everyone's face without resorting to crass comedy which is a rare feat in Bollywood in today's times. However Happy Bhag Jayegi is not only about comedy, it deals with the complex subject of relationships and personal equations. Eliminating all the unnecessary drama involved in handling relationships, director Mudassar Aziz has managed to handle the topic beautifully where he explores the effectiveness of new bonds and has shown a dignified way of approaching relationships.
Despite the film not boasting of a mega star cast, it still manages to keep the audiences glued to the screen. Thanks to the stellar performances by Diana Penty, Abhay Deol, Jimmy Sheirgill, Ali Fazal, Momal Sheikh, Piyush Mishra, each of whose character shines through in the film.
The identifiable characters and the happy vibe of the movie make Happy Bhag Jayegi a very relatable yet a different film for Bollywood!