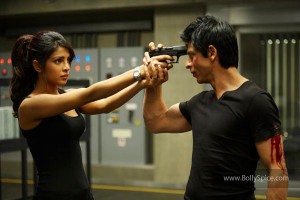 Everyone in Bollywood is currently watching out for one movie: Don 2. Expectations and curiosity has grown with each and every promo that has been released. How will the story continue? What has Farhan Akhtar come up with this time? And of course, will it break box office records? These are just some of the questions that are playing in everyone's minds while they wait for the film to finally come to the big screen next week. The film will not only be the return of The King, but also his Jungli Billi aka Roma aka Priyanka Chopra.
Women in Bollywood in most cases don't have much of a role in action-movies, but in Don 2 Priyanka will be seen in full action-mode. "Don 2 is a cool role for me. It's an action film of another level in Bollywood. I am more angrier in this one. I've done a lot of fist fighting that I didn't do too much of in the earlier Don. I went through intense rehearsals for my action with guidance from Farhan and Shah Rukh who often pulled my leg."
While Priyanka doesn't mind playing the damsel in distress, in Don 2, for once, she is not and that is exactly what makes this role so good, "I don't play a damsel in distress and so missed all the dance and frolic I've been doing in my other movies. Don 2 is one of those rare movies where I have to be serious all the time. I can't even sport my foot long smile. But that's what's good about Don 2. It makes me do things I've never done. That's one advantage of playing a cop but it's got disadvantages also as I've mentioned earlier."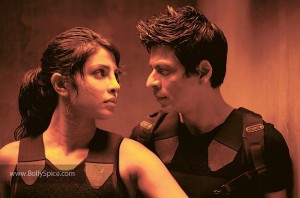 If you can remember, in the first film, Roma fell in love with Don (who she thought was Vijay). Ask her about her relationship with Don in part 2 and she says, "Don cannot be predictable. By that I mean Don as a person. You can never tell what his next move is going to be. He is one bad guy you can't mess with. Don is cold blooded and such people are really dangerous to deal with. Roma has such a relationship with him, hot and cold as she is hell bent on taking her revenge and wants Don at any cost. It's a cat and mouse chase."
Everyone in Bollywood at some point wants to work with Shah Rukh Khan. According to Priyanka SRK can live up to anything. That's what sets him apart from any other star. "He is a man who believes in challenges at this point in his career. He puts in more than one needs to put in his movies. There are very few actors who are like that. Don 2 is SRK's best action movie of 2011 I feel."
So, from what we can tell so far one of the reasons to watch Don 2 is, of course, Shah Rukh Khan and Priyanka Chopra. Another reason we can think of is the fact that Farhan Akhtar is back as director. But there is more! "It's suspense to another level too. The music is also rich, but the film is so huge in itself that music will stand out once the movie is released. You will get to the groove of the songs once you see the film. Don 2 is Farhan's best work I have seen," Priyanka added.
You can catch Don and Roma in their cat and mouse game on December 21st if you are in the UK and on the 23rd for the rest of the world!